This Prior Year Model is available and Priced Below our Current Year Models!
The original Pro Angler fishing kayak packs extreme fishing utility, with six horizontal rod lockers, enough tackle compartments to empty a store, and the revolutionary, forward and reversing MirageDrive 180 with Kick-Up Turbo Fins. Experience long days on the water with our ultra comfortable, elevated and adjustable Vantage Seating system. For discerning anglers who demand it all - room, stability, performance, stealth, and comfort– the PA 14 stands alone. There's a non-skid deck for standing—a huge advantage for sight kayak fishing—and veritable acres of H-Rail for mounting rod holders and electronics. All this on a spacious 14-foot platform, with no need for a gas tank.
MIRAGE PRO ANGLER 14 SPECIFICATIONS:
 

 

COLORS:

CREW:
1
DRIVE:
MD 180 TURBO W/ KICK-UP FINS + ARC CRANKS
LENGTH:
13' 8" / 4.17 M
WIDTH:
38" / .97 M
HEIGHT:
20" / 0.51 M
CAPACITY:
600 LBS / 272 KG
VANTAGE SEAT CAPACITY:
350 LBS / 159 KG
FITTED HULL WEIGHT:
120.5 LBS / 55 KG
FULLY RIGGED WEIGHT:
144.5 LBS / 65.54 KG
HULL CONSTRUCTION:
ROTOMOLDED POLYETHYLENE
HEIGHT FROM FLOOR TO MIDDLE OF THE KAYAK:
17" (TO BAR) / 43.28 CM (TO BAR)

THE HOBIE DIFFERENCE:
KICK-UP FIN TECHNOLOGY
Our Patented Kick-Up Fins provide the power to charge through the water as never before. Logs, kelp, shallows, rocks, no problem.
In 1997 Hobie revolutionized kayaking forever. Experience over 20 years of innovation perfected. Hobie's bioengineered MirageDrive propulsion system for pedal kayaks was revolutionary in its inception in 1997 and has been evolving ever since. The patented MirageDrive 180 forward-reverse propulsion system with Kick-Up Fin technology is integrated into most MirageDrive kayaks. See individual product pages for details. See how the Kick-Up Fins work.
Weighing in at under eight pounds, the MirageDrive 180 produces full power in both directions and offers unprecedented maneuverability for your pedal kayak. The user can pull one of two shift cables to pivot the fins 180 degrees, almost instantly from forward to reverse and back again. Logs? No problem. With our patented Kick-Up Fin technology, the fins automatically "kick-up" when an obstacle is hit. The dual fins provide shallow water access and easy shore landings by simply pushing one pedal forward. Hobie ARC cranks adjust with the push of a button to accommodate users from child size to tall adults.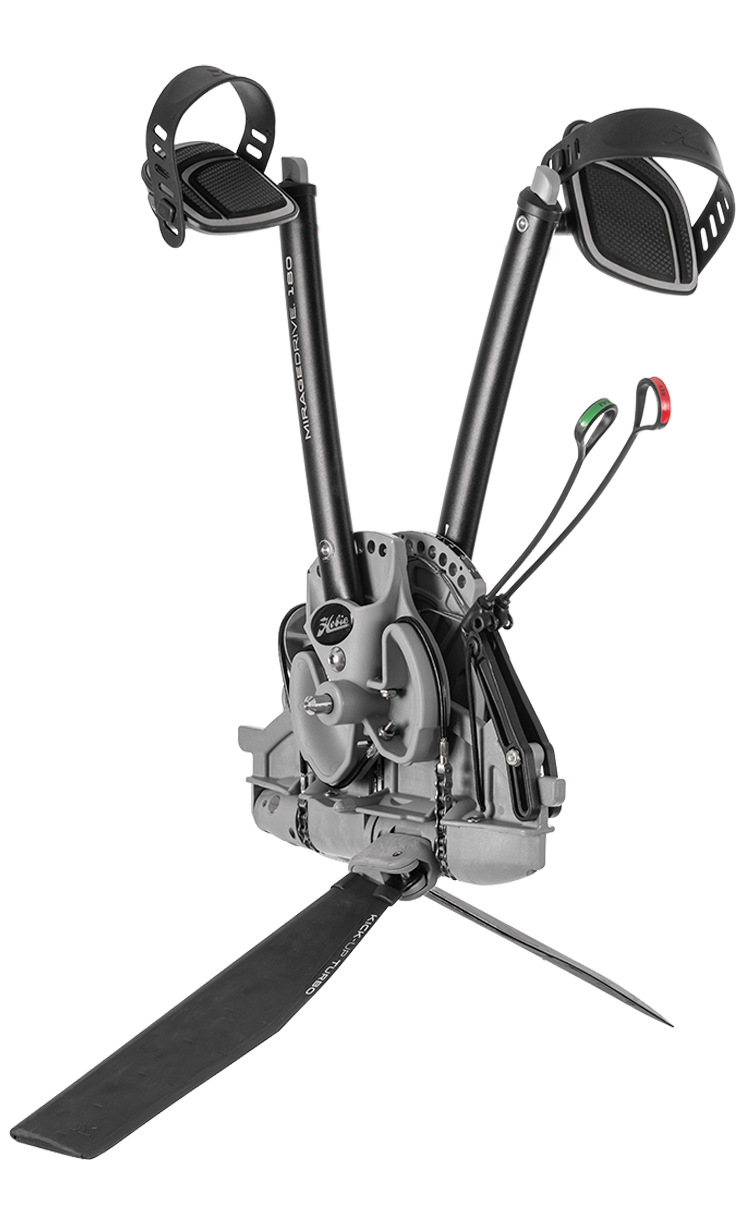 H-RAIL: BUILT TO GEAR UP
Visit Mariner Sails retail store
Mariner Sails, Inc., 11110 N. Stemmons Fwy, Dallas, TX 75229, 972-241-1498
Come down to our retail store to experience the largest collection of Kayaks - be amazed by the vast options in accessories or come have a chat with our staff members - experienced sailors, kayak anglers, windsurfers - with over 100 years of combined "on-the-water" experience.

9am - 5pm Monday- Friday (Temporary Hours)
10am - 4pm Saturday (Loft Closed on Saturday)

Learn more about our store
Serving water sports enthusiasts for over forty seven years specializing in Kayaking, Windsurfing, SUP, Sailing and Sail Making.