2023 MIRAGE OUTBACK
Featuring the one and only, forward and reversing Mirage Drive 180 with patented Kick-Up Fin Technology
This fully-loaded fishing machine is built for every conceivable fishing expedition, whether you're prowling the ocean for monster gamefish or stalking bass in your favorite freshwater fishing hole. Hobie has advanced the sport of kayak fishing with Kick-Up Fins that automatically retract upon impact. The extra-wide standing deck offers an improved casting platform and convenient vantage point for sight fishing, allowing for superior vision from above while the revolutionary Guardian Transducer Shield gives you multidimensional vision below. The adjustable Vantage CTW seat provides 1.5" of extra width and lumbar support for unmatched room and comfort for long days on the water. The Hobie H-Rail with integrated patented RAM® Hand-Track™ and numerous high-capacity storage compartments deliver the ultimate customization and organization in accessory mounting, ensuring that all of your gear is at your fingertips. Powered by the Mirage Drive 180 with Kick-Up Turbo Fins, this fine-tuned angling vessel is highly versatile, fast, quiet, and exceedingly nimble. Featuring our Kick-Up Rudder system with dual steering capabilities, combating drift and navigating tight water has never been easier.
MIRAGE OUTBACK SPECIFICATION
| | |
| --- | --- |
| COLORS: |     |
| CREW: | 1 |
| DRIVE: | MD 180 TURBO W/ KICK-UP FINS + ARC CRANKS |
| LENGTH: | 12' 9" / 3.89 M |
| WIDTH: | 34" / .86 M |
| CAPACITY: | 425 LBS / 192.78 KG |
| VANTAGE CTW SEAT CAPACITY: | 275 LBS / 124.74 KG |
| FITTED HULL WEIGHT: | 85 LBS / 38.56 KG |
| FULLY RIGGED WEIGHT: | 103 LBS / 46.72 KG |
| HULL CONSTRUCTION: | ROTOMOLDED POLYETHYLENE |
| HEIGHT FROM FLOOR TO MIDDLE OF THE KAYAK: | 12.5" / 31.75 CM |
| HEIGHT FROM FLOOR TO TALLEST POINT ON THE KAYAK: | 12.5" / 31.75 CM |
---
WARNING: this product contains chemicals known to the State of California to cause cancer and birth defects or other reproductive harm. For more information, please go to: www.P65Warnings.ca.gov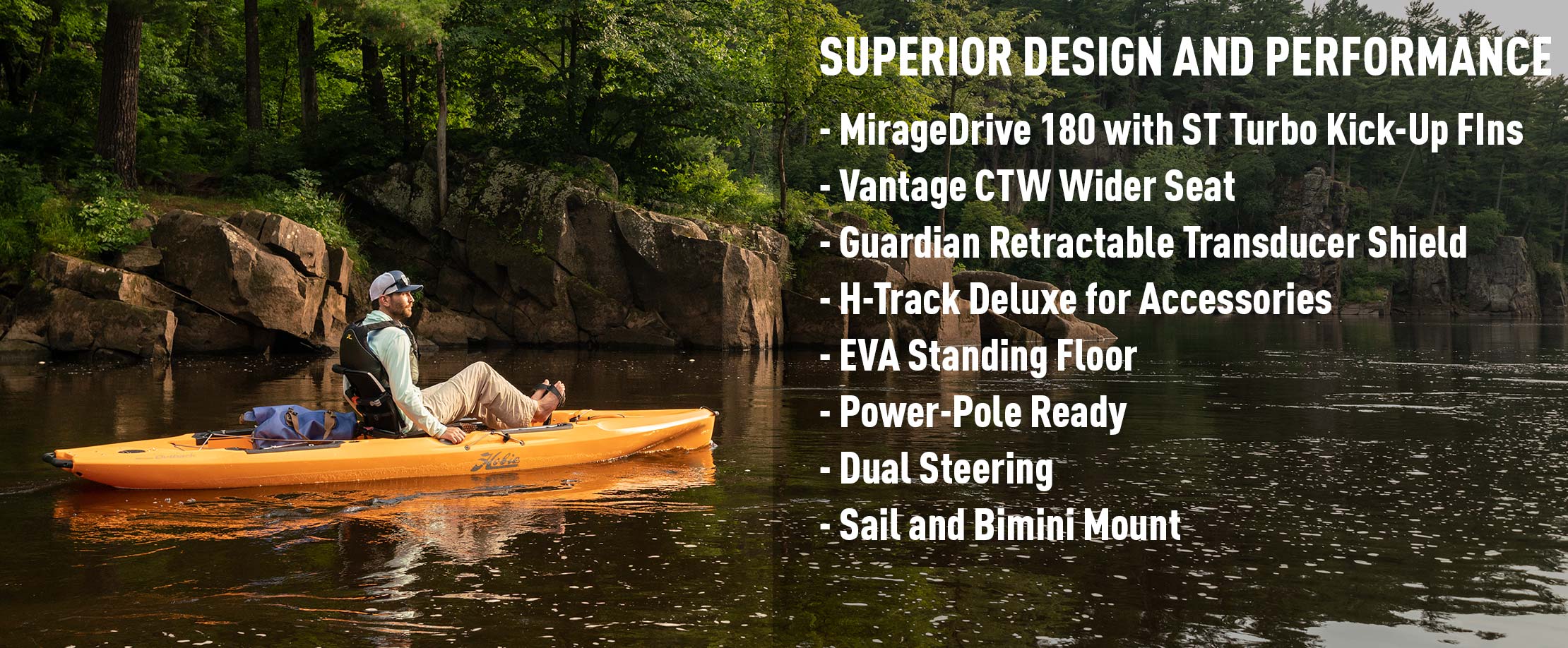 WHAT IT TAKES TO BE #1
REFLECTIVE BOW GRAPHICS
For added safety on the water.
LARGE BOW HATCH
Enables easy access to the bow's stowage compartment. A security strap with a detachable clip tethers the hatch; abovedeck, Bungee® cords secure extra gear.
FORWARD ACCESSORY MOUNT
Install an optional Mirage Sail Kit or Bimini Sunshade. Securely steps onto a deck-mounted fitting. Enjoy added power without complication; Mirage Sail Kits make sailing fun and easy while Bimini's provide relief from the sun.
MIRAGEDRIVE 180 WITH KICK-UP TURBO FINS
Revolutionary hands-free propulsion system. When pedaled, the flexible fins assume the shape of a propeller blade, providing forward motion with each pedal stroke. 2020 Mirage Outbacks come standard with Turbo Fins.
RUDDER UP/DOWN CONTROL
NOTCHED MIRAGEDRIVE WELL
Recess for MirageDrive on bottom of kayak for better shallow water protection.
HOBIE H-RAIL WITH INTEGRATED PATENTED RAM® HAND-TRACK™
For the ultimate customization and organization in accessory mounting. Includes side accessory tracks, plier holder, knife slot, Tackle Storage Retainers and an integrated Bungee retraction system to keep all gear close at hand.
EVA DECK PADS
Advanced EVA pads provide better grip, extra comfort, and improved stability while standing and sound dampening properties.
VERTICAL RECTANGULAR HATCH
New vertical orientation allows for more standing area and ease of access to your tackle bins. Comes standard with an easily removable tackle bucket and bottle opener on the inside lid. A rubber mesh pocket is included to catch any stray bottle caps.
MID-BOAT CARRYING HANDLE
These ergonomic handles are bolted onto either side of the kayak's cockpit, making it easier to negotiate launching ramps or transport.
DUAL RUDDER CONTROL
Easily control steering from both sides of the kayak.
VANTAGE CTW SEATING
New state-of-the-art design, with 4-way adjustability and an added 1.5" on the seat base for more comfort in the cockpit or on the beach. Enjoy breathability, infinite flexibility and better visibility.
UTILITY TRAYS
For storing tackle and other items needed close at hand.
GUARDIAN RETRACTABLE TRANSDUCER SHIELD
Retractable Shield protects transducer on impact and retracts away for transport. Built-in transducer mount allows side scanning for optimal fishfinder performance. Pre-installed thru-hull cable plugs allow quick, no-drill, no-glue fishfinder installation.
4 VERTICAL ROD HOLDERS
4 vertically oriented rod holders are perfectly angled for trolling and can accommodate other accessories such as a gaff or a net.
TWO-PIECE PADDLE WITH ON-HULL STORAGE
Negotiate surf-strewn beaches and rocky inlets with additional confidence, or go old school and paddle for an upper body workout. Conveniently clips onto the hull when not needed.
LARGE REAR CARGO AREA
Big adventures demand plenty of gear. These molded areas and Bungee® tie-downs ensure that it's still there when you get to camp.
H-TRACK DELUXE W/ BUNGEE TACKLE RETAINER
Includes side accessory tracks for the ultimate customization in accessory mounting. Plier holder, knife slot, tackle storage retainers and an integrated retraction system keep your most needed items close at hand. The Bungee system creates infinite storage opportunities, add a Livewell, H-Crate or large cooler to the rear of your kayak.
CART KEEPER
Bungee Locking System safely secures a kayak cart while on the water.
UNDERHULL KICK-UP RUDDER
Automatically kicks up when coming into contact with a solid object like shallow ground or debris.
POWER-POLE READY
Pre-installed inserts to make mounting a Power-Pole a cinch, no mounting plate needed.

HOBIE GUARDIAN – RETRACTABLE TRANSDUCER SHIELD

Retractable Shield protects transducer on impact and retracts away for transport. Built-in transducer mount allows side scanning for optimal fishfinder performance.

SPACIOUS DECK & VERTICAL HATCH

Everything you need at your fingertips. Dual H-Track Deluxe with H-Rail boast the ultimate in accessory mounting, customization and organization. EVA deck pads provide a cushioned standing area and sound dampening. The vertical rectangular hatch easily opens for more tackle storage and includes a bottle opener for cold beverage enjoyment.

KICK-UP RUDDER

The Kick-Up Rudder locks in to place when you need it and retracts on impact. A large carrying handle makes transport a breeze while providing the perfect mount for your GoPro. The stern is also Power-Pole ready with pre-drilled inserts.

REDESIGNED BOW

Piercing bow helps cut effortlessly through the water, wind, wake, and chop while reducing hull slap. Reflective bow graphics provide an added safety feature. Extra large bow compartment makes storage easy and accessible.
Visit Mariner Sails retail store
Mariner Sails, Inc., 11110 N. Stemmons Fwy, Dallas, TX 75229, 972-241-1498
Come down to our retail store to experience the largest collection of Kayaks - be amazed by the vast options in accessories or come have a chat with our staff members - experienced sailors, kayak anglers, windsurfers - with over 100 years of combined "on-the-water" experience.

9am - 5pm Monday- Friday (Temporary Hours)
10am - 4pm Saturday (Loft Closed on Saturday)

Learn more about our store
Serving water sports enthusiasts for over forty seven years specializing in Kayaking, Windsurfing, SUP, Sailing and Sail Making.