Prior Year Models Available Contact Us for Details.
MIRAGE REVOLUTION 11
Lightning fast off the line, MirageDrive powered kayak that'll turn in it's own length. Performance in a tidy package, this kayak is easy to transport and store.
Powered by the MirageDrive 180 + Kick-Up Fins, the Revo 11 is an ideal mix of size, speed and maneuverability, easily transported to remote bodies of water. This eye-catching pedal kayak comes with all the essentials available on larger fishing kayak models, at significantly reduced weight: molded-in rod holders, multiple hatches and a spacious storage well. There isn't a single wasted inch on this compact kayak.
MIRAGE REVOLUTION 11 SPECIFICATIONS
| | |
| --- | --- |
| COLORS: | |
| CREW: | 1 |
| DRIVE: | MD 180 W/ KICK-UP FIN TECHNOLOGY + ARC CRANKS |
| LENGTH: | 11' 6" / 3.51 M |
| WIDTH: | 29" / .74 M |
| CAPACITY: | 275 LBS / 125 KG |
| VANTAGE CT SEAT CAPACITY: | 275 LBS / 124.74 KG |
| FITTED HULL WEIGHT: | 64 LBS / 29 KG |
| FULLY RIGGED WEIGHT: | 81 LBS / 37 KG |
| HULL CONSTRUCTION: | ROTOMOLDED POLYETHYLENE |
| HEIGHT FROM FLOOR TO MIDDLE OF THE KAYAK: | 11.25" / 28.57 CM |
| HEIGHT FROM FLOOR TO TALLEST POINT ON THE KAYAK: | 15" / 38.1 CM |
---
WARNING: this product contains chemicals known to the State of California to cause cancer and birth defects or other reproductive harm. For more information, please go to: www.P65Warnings.ca.gov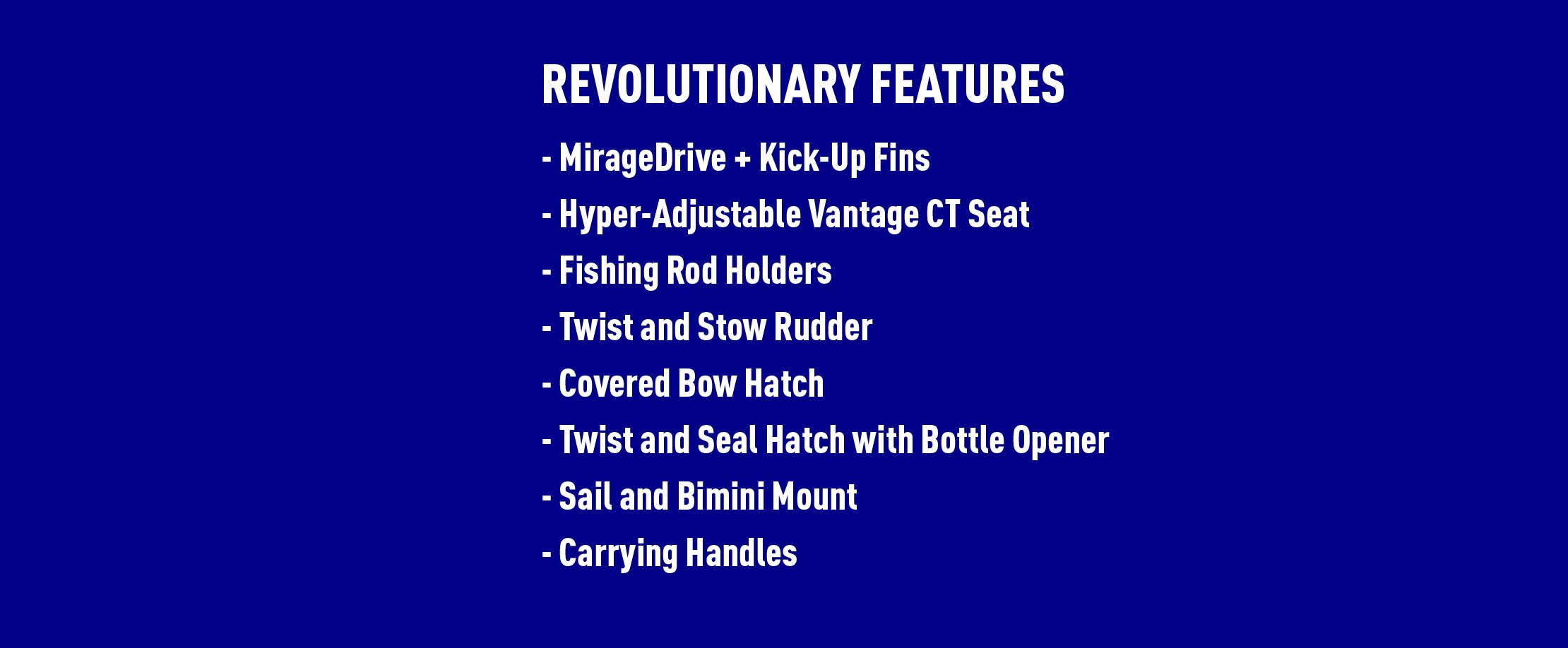 WHAT IT TAKES TO BE #1
MOLDED CARRYING HANDLE
Ergonomic handles fitted to stainless pad eyes make portaging easier and more comfortable.
LARGE BOW HATCH
Enables easy access to the bow's stowage compartment. A security strap with a detachable clip tethers the hatch; abovedeck, Bungee® cords secure extra gear.
SAIL MOUNT
The optional Mirage Sail Kit's mast securely steps onto a deck-mounted fitting. Enjoy added power without complication; Mirage Sail Kits make sailing fun and easy.
MIRAGEDRIVE 180 WITH ST FINS
Revolutionary hands-free propulsion system. When pedaled, the flexible fins assume the shape of a propeller blade, providing forward motion with each pedal stroke.
RUDDER UP/DOWN CONTROL
MESH STOWAGE POCKET
Easy access and safe stowage for the things you reach for most. Now made with rubber for improved durability.
2-8" TWIST AND SEAL HATCH
An efficient corkscrew mechanism ratchets down this hatch, keeping stowed items secure irrespective of the sea state. The lid is permanently attached to its base via a hinge, so you don't have to worry about leaving it at last night's campground.
CUP HOLDER
Cold, hot or somewhere in between--we've got a convenient spot for your favorite beverage.
MID-BOAT CARRYING HANDLE
These ergonomic handles are bolted onto either side of the kayak's cockpit, making it easier to negotiate launching ramps or transport.
RUDDER CONTROL
Soft handle makes fingertip steering easy.
VANTAGE CT SEATING
State-of-the-art design, with 4-way adjustability for more comfort in the cockpit or on the beach. Enjoy breathability, infinite flexibility and better visibility.
TWO-PIECE PADDLE
Negotiate surf-strewn beaches and rocky inlets with additional confidence, or go old school and paddle for an upper body workout. Conveniently clips onto the hull when not needed.
REAR CARGO AREA
Big adventures demand plenty of gear. These molded areas and Bungee® tie-downs ensure that it's still there when you get to camp.
2-ROD HOLDERS
These molded-in holsters securely tote your rods, are perfectly angled for trolling and can accommodate a gaff, nets and other gear.
TWIST AND STOW RUDDER
Hobie's Twist and Stow Rudder is there when you need it, gone when you don't. Simply pull one of the T-shaped control handles to engage or disengage the retractable-rudder system. Fingertip-operated steering makes driving a snap.
TRANSPORT WITH EASE

Whether transporting via truck, cartop or cart to water's edge, the Mirage Revolution 11's lighter weight hull and short bow-to-stern length make for very manageable transportation.

TWIST AND STOW RUDDER

Hobie's Twist and Stow Rudder is there when you need it, gone when you don't. A standard accessory on most Mirage models, the retractable-rudder system is engaged and disengaged with a pull of the T-shaped control handles.

( Shown on Mirage Revolution )
Visit Mariner Sails retail store
Mariner Sails, Inc., 11110 N. Stemmons Fwy, Dallas, TX 75229, 972-241-1498
Come down to our retail store to experience the largest collection of Kayaks - be amazed by the vast options in accessories or come have a chat with our staff members - experienced sailors, kayak anglers, windsurfers - with over 100 years of combined "on-the-water" experience.

9am - 5pm Monday- Friday (Temporary Hours)
10am - 4pm Saturday (Loft Closed on Saturday)

Learn more about our store
Serving water sports enthusiasts for over forty seven years specializing in Kayaking, Windsurfing, SUP, Sailing and Sail Making.