BREEZE FP ADJ EL 170-210
The BREEZE FP 170-210cm Easy-Lock Adjustable Paddle is a high performance SUP paddle at an affordable price with a lightweight and easy to use adjustment system. Ideal for paddlers from 5'2"/1.60m to 6'4"/1.95m but still works above that limit. A carbon/fiberglass shaft reduces weight and improves flexibility for better performance than an aluminum shaft.
.
BREEZE paddles are designed for exploring further from the shore in open waters and for paddlers looking for a light-weight, high performance paddle at a value price. Carbon-Fiberglass shafts are paired with reinforced nylon blades for strength, light-weight and performance. The premium Easy-Lock adjustment system allows for a customized length with no bulky mechanism on the shaft to get in the way.
The design and performance of the BREEZE blade is based on the three phases of an efficient paddle stroke:
The Catch: Our blades are designed for a smooth entry into the water with minimal splash or blade rotation during entry. This allows the blade to become firmly planted in the water for the second phase of the stroke…
The Pull: This is where power is applied from the paddler, to the blade, into the water and is what propels you forward. Keeping the blade slightly narrower and longer than traditional SUP paddle blades gives you several "gears" depending on how deeply you insert the paddle into the water. Together with a slight dihedral in the blade it also reduces cavitation (flutter) for maximum transfer of power from body to blade to water.
The Recovery: Just as important as the Catch, a clean recovery minimizes power loss and maintains rhythm. The Beach paddle blade has minimal 'curve' in the blade and a thin profile. This allows the blade to "pop" out of the water at the end of the stroke quickly and cleanly. The thin profile also increases blade performance when feathering the paddle through the water, which is an advanced recovery technique used in many situations, from helping maintain balance to course corrections.
KEY FEATURES & BENEFITS
EASY-LOCK ADJUSTMENT SYSTEM
ERGONOMIC T-GRIP HANDLE
LIGHTWEIGHT PERFORMANCE CARBON-FIBERGLASS SHAFT
MODERN BLADE SHAPE FEATURING REINFORCED NYLON FOR DURABILITY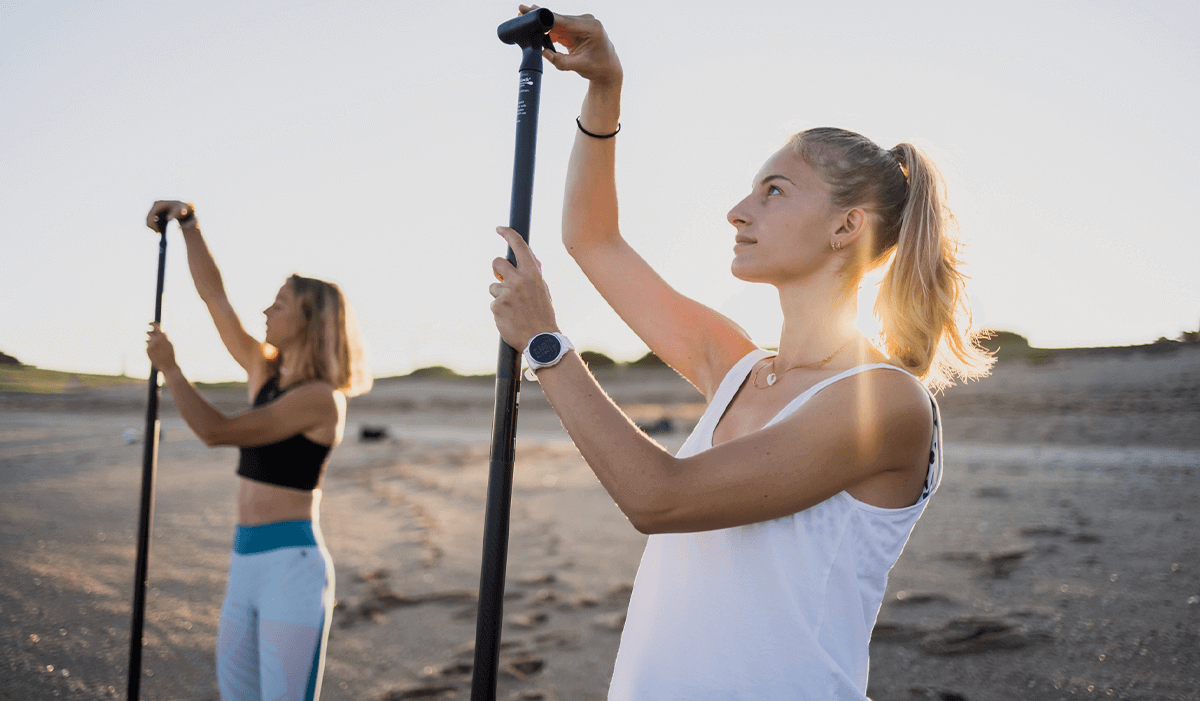 ---
TECHNICAL SPECS
Code: 108357

Model: Breeze

Shaft Material: 30% Carbon - Fiberglass

Paddle Grip: Fibrylon T-Grip

Shaft Type: Round

Adjusting system: E.lock

Paddle Weight: 1.75 lbs / 790 gr

Paddle Length: 170 cm - 210 cm

Blade width: 7" / 179 mm

Country of Manufacture: France

Paddle Material: Carbon/glass fibers - Polycarbonate

Shaft length: 67-83" / 170-210

Shaft diameter: 30 mm

Blade materia: lFibrylon T-Grip

Blade angle: 10°

Blade Area: 80" / 509 cm²

Blade length: 18" / 464 mm
Visit Mariner Sails retail store
Mariner Sails, Inc., 11110 N. Stemmons Fwy, Dallas, TX 75229, 972-241-1498
Come down to our retail store to experience the largest collection of Kayaks - be amazed by the vast options in accessories or come have a chat with our staff members - experienced sailors, kayak anglers, windsurfers - with over 100 years of combined "on-the-water" experience.

9am - 5pm Monday- Friday (Temporary Hours)
10am - 4pm Saturday (Loft Closed on Saturday)

Learn more about our store
Serving water sports enthusiasts for over forty seven years specializing in Kayaking, Windsurfing, SUP, Sailing and Sail Making.