11'0" BEACH WING
This COMPLETE PACKAGE includes rigid inflatable board, adjustable paddle, safety ankle leash, backpack, high-pressure pump with gauge, repair kit, deck bungee for gear storage, carry handles at center, nose and tail, tie down o-rings at nose and tail, "yoga-mat" style traction pad for comfort and grip.
The 11' Beach Wing AIR complete package is the perfect board for flat-water cruising with family and friends as well as going on longer distance touring-style adventures. The 11' Wing AIR works great for novice riders up to 220lbs/100kg.
KEY FEATURES & BENEFITS
VERSATILEFor All-Around use and Touring
ULTRA-LIGHT CONSTRUCTIONFor ease of transport
9" REMOVABLE FCS TOURING FINFor excellent tracking
DECK BUNGEE STORAGE AREA
CARRY HANDLES AT NOSE, TAIL AND CENTERFor easy transport
SOFT EVA EMBOSSED TRACTION PADFor comfort and control
---
TECHNICAL SPECS
Code107203

ModelBeach

Length11'0" / 335 cm

Width32" / 81 cm

Volume305 L

Thickness6" / 15 cm

Weight23 lbs / 10.5 kg

Max Riders Weight220 lbs / 100 kg

Handle TypeNeoprene

Inflatable PSI15 PSI

Finbox Configuration Set UpSingle US Box

Supplied fin(s)Touring 9"

Product TypeInflatable

TechnologySUP Air

Country of ManufactureChina
PACKAGE INCLUDES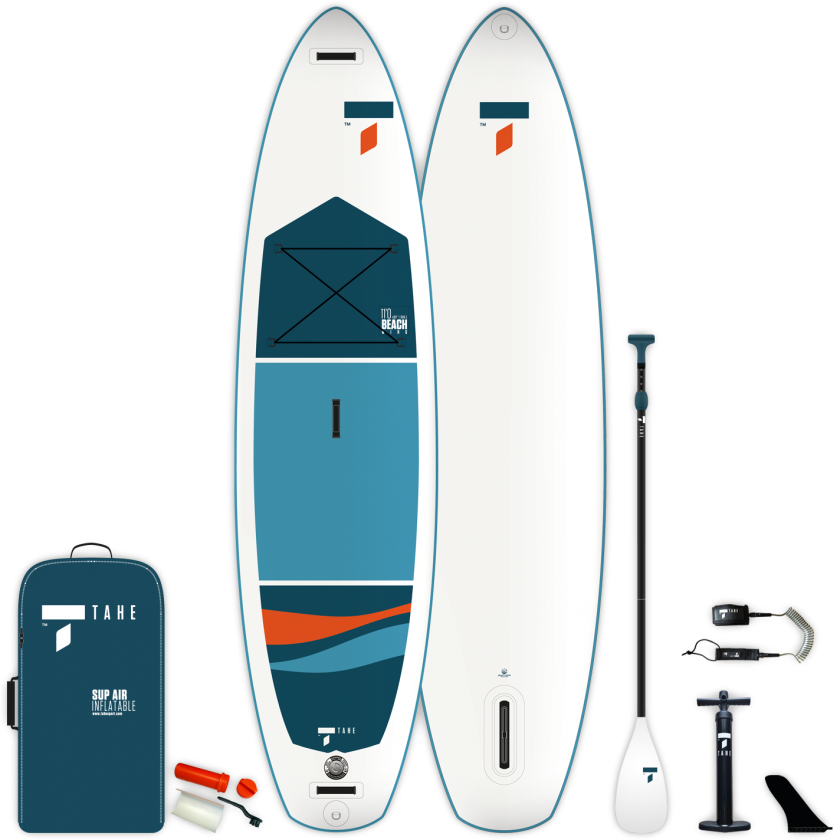 THE 11'0" BEACH WING COMES WITH:
1x Beach Wing 11'0" Board
1x Removable 9" CenterFin
1x Adjustable Paddle
1x Carry-All Backpack
1x Ankle/Calf Leash
1x Hi-Pressure 2-Way Inflation Pump with Gauge
1x Repair Kit
Visit Mariner Sails retail store
Mariner Sails, Inc., 11110 N. Stemmons Fwy, Dallas, TX 75229, 972-241-1498
Come down to our retail store to experience the largest collection of Kayaks - be amazed by the vast options in accessories or come have a chat with our staff members - experienced sailors, kayak anglers, windsurfers - with over 100 years of combined "on-the-water" experience.

9am - 5pm Monday- Friday (Temporary Hours)
10am - 4pm Saturday (Loft Closed on Saturday)

Learn more about our store
Serving water sports enthusiasts for over forty seven years specializing in Kayaking, Windsurfing, SUP, Sailing and Sail Making.