9'0 BEACH WING PACK
The 9'0" Beach Wing inflatable SUP is designed with a thinner profile and bigger keel to give you improved performance on flat water and against chop. The mini version of the 11' Beach Wing Air, this 9' board is an easy ride and perfect for smaller/lighter riders, and for kids. This is a great board for learning SUP and for families, giving you a great combination of glide and stability.
It has centre, front and rear carry handles, two stainless steel attachment points (rear leash + front tow point) and a large foam deck pad for comfort and grip. It also comes with integral elasticated netting deck straps to carry extra equipment safely.
Glued under-and-over reinforcements give the Drop Stitch structure extra rigidity and toughness. The package is lightweight without losing durability.
---
KEY FEATURES & BENEFITS
HIGHLY VERSATILEPerfect for family stand-up-paddle fun
COMPACT 9'0'' SUPEasy to handle, transport and store.
6" THICKNESSGreat rigidity
ELASTICATED DECK STRAPSSafe equipment storage
FRONT, REAR AND CENTRE CARRY HANDLESEasy to handle and carry
EVA FOAM DECK PADFor ride comfort and grip
9'' TOURING FINEasy to steer
MAXIMUM RIDER WEIGHT FOR OPTIMUM STABILITY143 lbs / 65 kg
MAXIMUM INFLATION PRESSURE15 PSI
---
TECHNICAL SPECS
Code 108244

Model Beach

Length 9'0'' / 274 cm

Width 30.0" / 76 cm

Volume 190 L

Thickness 4.75" / 12 cm

Weight 19 lbs / 8.5 kg

Max Riders Weight 143 lbs / 65 kg

Handle Type Neoprene

Inflatable PSI 15 PSI

Finbox Configuration Set Up Single US Box

Supplied fin(s) Touring 9"

Product Type Inflatable

Technology SUP Air

Country of Manufacture China
PACKAGE INCLUDES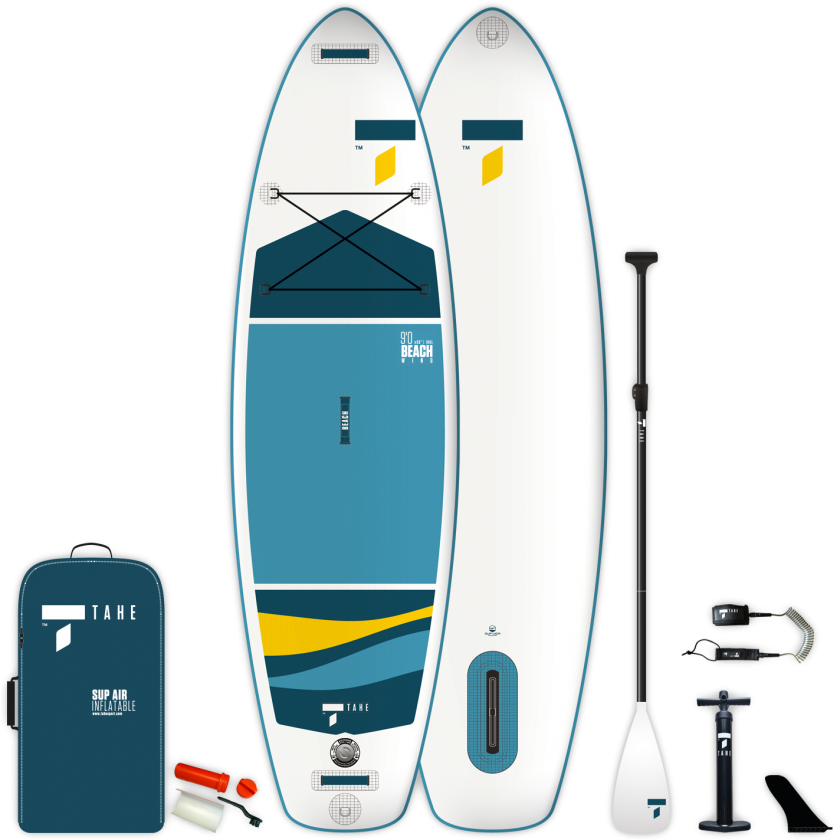 THE 9'0" BEACH WING COMES WITH:
1x Beach Wing 9'0" SUP Board
1x Removable 9" CenterFin
1x Adjustable Paddle
1x Carry-All Backpack
1x Ankle/Calf Leash
1x Hi-Pressure 2-Way Inflation Pump with Gauge
1x Repair Kit
Visit Mariner Sails retail store
Mariner Sails, Inc., 11110 N. Stemmons Fwy, Dallas, TX 75229, 972-241-1498
Come down to our retail store to experience the largest collection of Kayaks - be amazed by the vast options in accessories or come have a chat with our staff members - experienced sailors, kayak anglers, windsurfers - with over 100 years of combined "on-the-water" experience.

9am - 5pm Monday- Friday (Temporary Hours)
10am - 4pm Saturday (Loft Closed on Saturday)

Learn more about our store
Serving water sports enthusiasts for over forty seven years specializing in Kayaking, Windsurfing, SUP, Sailing and Sail Making.