Crafted with AeroULTRA Technology, we've created a great-looking, extremely lightweight, inflatable paddle board. The Breeze Aero 10′8″ Classic Teak is fun to paddle and super stable. It's the do-it-all, everyday grab-and-go SUP. Made for the first-timer, part-timer, or weekend warrior, the Breeze Aero will make sure your next paddle is a great one.
Included in package:
Breeze Aero 10′8″ Inflatable Paddle Board
3-Piece Adjustable SUP Paddle
10″ Removable Aero Center Fin
Aero Repair Kit
Hand Pump
Travel Bag
Technical Specs
Dimensions: 10′8″ L × 33″ W × 6″ D
Weight Capacity: 250 LBS
Avg. Weight: 20 LBS
Construction: Inflatable AeroULTRA Technology
Optimal Inflation: 10-15 PSI
Travel Bag Dimensions: 38″ L × 18″ W × 12″ D
Loaded Bag Weight: 26 LBS
If rider weight is within 50 LBS of a board's listed capacity, BOTE recommends upgrading to a larger capacity board.
PERFECT FOR THESE SKILL LEVELS
BEGINNER   INTERMEDIATE    ADVANCED
With a 33" width, the Breeze Aero 10'8" Classic Teak provides ample stability to ensure whether you are learning to paddle or an avid paddler looking for the lightest paddle board, you will have a great time.
FAMILY FRIENDLY
The Breeze Aero has all the essentials to give you and your family a fun day out on the water with all the style that comes with owning a BOTE.
FUN BEACH COMPANION
The Breeze Aero makes a great addition to your beach gear, allowing you to escape the crowded sand and enjoy a paddle just offshore.
SUPREMELY STABLE
The Breeze Aero's width provides extra stability, making it easy for anyone to jump on, from beginners up to avid paddlers.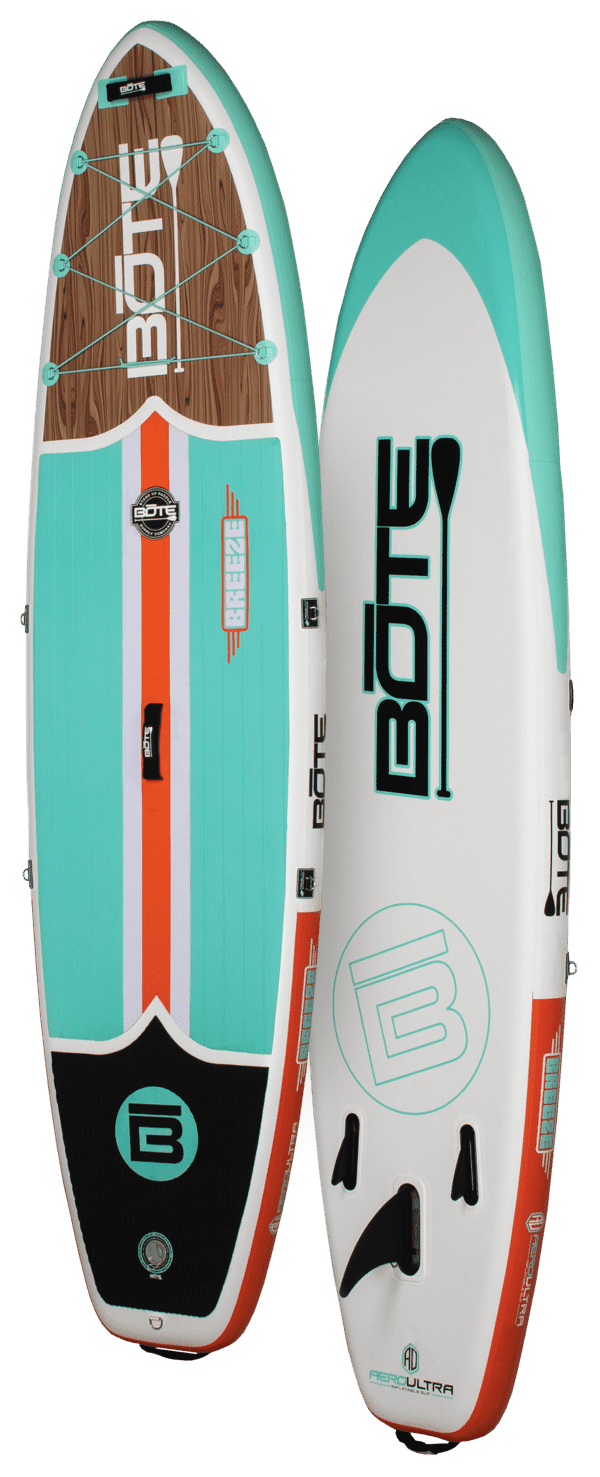 MADE WITH AEROULTRA
Constructed with our Aero Technology™ to achieve a lighter weight while maintaining rigidity and performance.
TRAVELINK™ COMPATIBLE
Travelink™ SUP Carry System Compatible to transport your BOTE hands-free over long distances safely and ergonomically with ease.
LIGHTWEIGHT & PORTABLE
Breeze Aero's AeroULTRA technology means it weighs right around 20 pounds (that's over 20% lighter than most quality inflatable paddle boards).
Visit Mariner Sails retail store
Mariner Sails, Inc., 11110 N. Stemmons Fwy, Dallas, TX 75229, 972-241-1498
Come down to our retail store to experience the largest collection of Kayaks - be amazed by the vast options in accessories or come have a chat with our staff members - experienced sailors, kayak anglers, windsurfers - with over 100 years of combined "on-the-water" experience.

9am - 5pm Monday- Friday (Temporary Hours)
10am - 4pm Saturday (Loft Closed on Saturday)

Learn more about our store
Serving water sports enthusiasts for over forty seven years specializing in Kayaking, Windsurfing, SUP, Sailing and Sail Making.