MSKFC Presents : A Trip Down the Brazos River with Jerry Hamon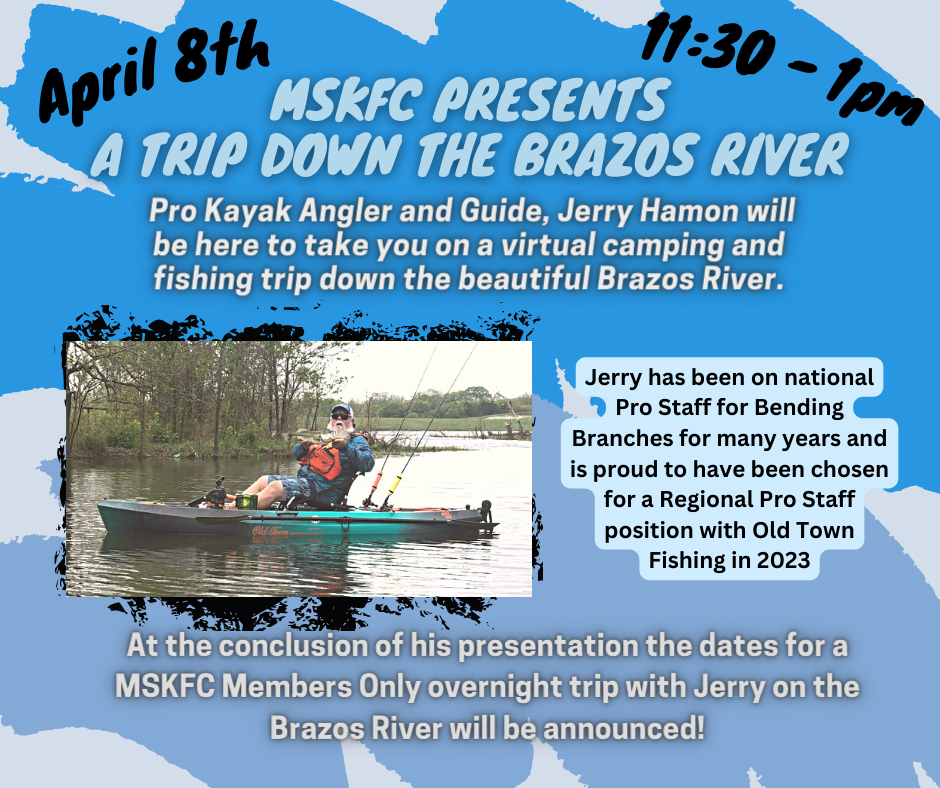 Pro Kayak Angler and Guide, Jerry Hamon will be here to take you on a virtual camping and fishing trip down the beautiful Brazos River.
About the Presenter:
Jerry has been guiding and hosting overnight trips on the Brazos for over 16 years. His 19 ½ years of Scouting experience and being an eagle Scout prepared him for these types of trips long ago. Additionally, he is certified in CPR/AED/First Aid and Stop the
Bleed. His fishing experience began when he was 2 ½ years old and his parents took him on his first trip to the Red River below Lake Texoma. Jerry is a Texas Parks and Wildlife Certified Angler Ed Instructor and Area Chief, a Scouting Certified Angler
Instructor, and jumps on every opportunity he gets to teach fishing. He also proudly sits on the Friends of the Fisheries Board at the Texas Freshwater Fisheries Center in Athens.
Jerry has been on national Pro Staff for Bending Branches for many years and is proud to have been chosen for a Regional Pro Staff position with Old Town Fishing in 2023.
At the conclusion of his presentation the dates for a MSKFC Members Only overnight trip with Jerry on the Brazos River will be announced!