Custom Sail Loft

With over 30 years of proven sail-making history, and over 100 years of staff sailing experience under our belts, quality, turnaround, and customer service are our top priority. We take pride in the Mariner Sailmaker's legacy and name.
About the Sail Loft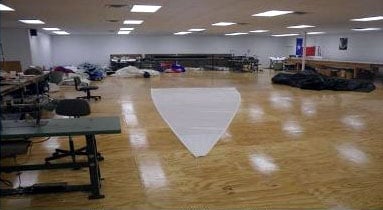 Mariner Sailmakers first hit the Dallas sailing scene January 1st, 1975 under the leadership of Rick Curry and Don Word. What started out as a small custom sail loft has evolved into one of North Texas' top rated active watersports suppliers. By 1990 Aris Tsamis was partnered with Rick Curry, and is now the current proprietor. By early 2010 Mariner Sailmakers settled into the new location off I-35 Stemmons Freeway with more than double the sail loft floor space.
With Mariner Sailmakers you can expect to find:
20+ years of sailmaking experience and historical data.

Computer Aided Design equipment.

Prompt and efficient repair service - 7 to 10 days typical.

Custom on-boat sail measurement upon request.

The highest quality materials that will last from trusted suppliers such as Bainbridge, Dimension Polyant, and Challenge.
Available Services:
Sail Repair -
Sails for large boats, small boats, dinghy's, catamarans, and sailboards.

Rips, tears, stitching, UV damage, torn grommets, and more.

Each case is quoted with estimated completion before repairs begin.
Custom Sailmaking -
Our extensive library of sailing craft specifications can help you determine the right custom sail for your boat.

Each case is quoted with estimated completion before construction begins.
Sail Covers, Bags, and Tiller Covers -
Protect your boat and sail from the weather or UV damage with custom made covers

Kiosk or other covers can be custom made for your business or personal needs. (See www.FabricateUS.com for more info.)

Each case is quoted with estimated completion before construction begins.
Sail Cleaning -
We do not clean sails here but here are some simple steps to help get your sail in better shape.
To Get a Quote: 
Because each case is unique, we prefer to speak with you in person or on the phone. However, if you would like to email us for a quote, please include the following information:
Name and contact phone number.

If for a sail repair please indicate the type of boat, which sail, and what damage is to be repaired.

For custom sails please indicate the type of boat and which sail(s).

Sail covers, kiosk covers, and other projects will require exact dimensions and details.
We also have sail measurement forms that can be printed off and filled out and sent via email, fax, mail, or walk in to order or get a quote on sails and covers.
For sail repairs we prefer to inspect the damage before quoting a repair. You can always email us an image of the damage for a nonbinding estimate pending our actual inspection.
---
Visit Mariner Sails retail store
Mariner Sails, Inc., 11110 N. Stemmons Fwy, Dallas, TX 75229, 972-241-1498
Come down to our retail store to experience the largest collection of Kayaks - be amazed by the vast options in accessories or come have a chat with our staff members - experienced sailors, kayak anglers, windsurfers - with over 100 years of combined "on-the-water" experience.

9am - 5pm Monday- Friday (Temporary Hours)
10am - 4pm Saturday (Loft Closed on Saturday)

Learn more about our store
Serving water sports enthusiasts for over forty seven years specializing in Kayaking, Windsurfing, SUP, Sailing and Sail Making.