MIRAGE OUTBACK
Featuring the one and only, forward and reversing MirageDrive 180 with patented Kick-Up Fin Technology.
---
This fully-loaded fishing machine is built for every conceivable fishing expedition, whether you're prowling the ocean for monster gamefish or stalking bass in your favorite freshwater fishing hole. Hobie has advanced the sport of kayak fishing with Kick-Up Fins that automatically retract upon impact. The extra-wide standing deck offers an improved casting platform and convenient vantage point for sight fishing, allowing for superior vision from above while the revolutionary Guardian Transducer Shield gives you multidimensional vision below. The adjustable Vantage CTW seat provides 1.5" of extra width and lumbar support for unmatched room and comfort for long days on the water. The Hobie H-Rail with integrated patented RAM® Hand-Track™ and numerous high-capacity storage compartments deliver the ultimate customization and organization in accessory mounting, ensuring that all of your gear is at your fingertips. Powered by the MirageDrive 180 with Kick-Up Turbo Fins, this fine-tuned angling vessel is highly versatile, fast, quiet, and exceedingly nimble. Featuring our Kick-Up Rudder system with dual steering capabilities, combating drift and navigating tight water has never been easier.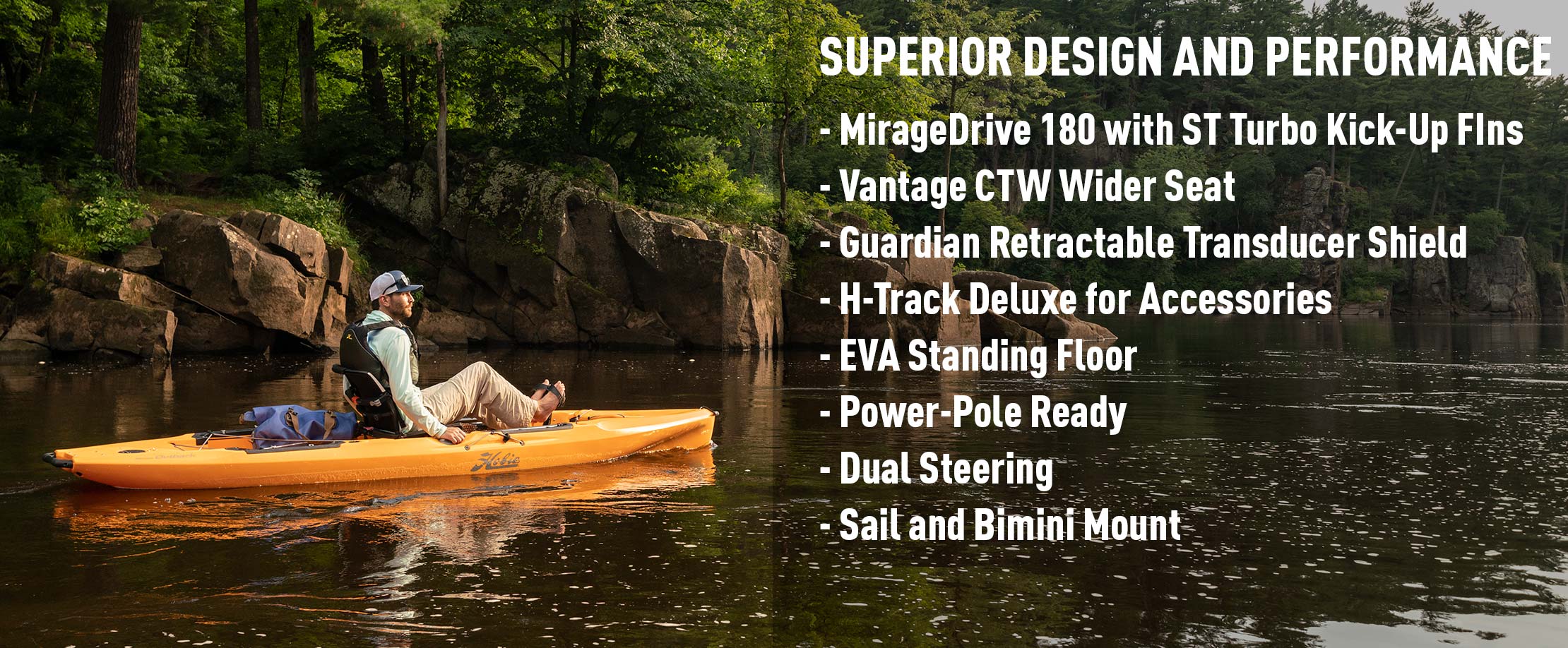 REFLECTIVE BOW GRAPHICS
LARGE BOW HATCH
FORWARD ACCESSORY MOUNT
MIRAGEDRIVE 180 WITH KICK-UP TURBO FINS
HOBIE H-RAIL WITH INTEGRATED PATENTED RAM® HAND-TRACK™
RUDDER UP/DOWN CONTROL
EVA DECK PADS
VERTICAL RECTANGULAR HATCH
MID-BOAT CARRYING HANDLE
DUAL RUDDER CONTROL
VANTAGE CTW SEATING
LARGE REAR CARGO AREA
4 VERTICAL ROD HOLDERS
H-TRACK DELUXE W/ BUNGEE TACKLE RETAINER
CART KEEPER
UNDERHULL KICK-UP RUDDER
GUARDIAN RETRACTABLE TRANSDUCER SHIELD
H-TRACK DELUXE WITH H-RAIL
POWER-POLE READY
LARGE REAR HANDLE
NOTCHED MIRAGEDRIVE WELL
UTILITY TRAYS
TWO-PIECE PADDLE WITH ON-HULL STORAGE
KICK-UP FIN TECHNOLOGY
Visit Mariner Sails retail store
Mariner Sails, Inc., 11110 N. Stemmons Fwy, Dallas, TX 75229, 972-241-1498
Come down to our retail store to experience the largest collection of Kayaks - be amazed by the vast options in accessories or come have a chat with our staff members - experienced sailors, kayak anglers, windsurfers - with over 100 years of combined "on-the-water" experience.

9am - 5pm Monday- Friday (Temporary Hours)
10am - 4pm Saturday (Loft Closed on Saturday)

Learn more about our store
Serving water sports enthusiasts for over forty seven years specializing in Kayaking, Windsurfing, SUP, Sailing and Sail Making.