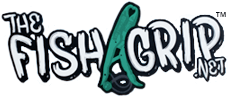 ABOUT THE ORIGINAL FISH GRIP™
WHAT IS THE FISH GRIP?
The Fish Grip is a tool that fits you and it fits the fish; not just effective, but comfortable. Pulling a hook out of a fish's mouth is far simpler when you employ The Fish Grip, but more importantly, it can grant you control over what can normally be a flopping fiasco. It's "The Only Fish Grip with a Heart™!"
THE PHASES OF THE FISH GRIP
Like any great tool, The Fish Grip has gone through a number of iterations to become the adept tool that it is today. Each curve, knob, and indention were custom designed and purposefully address the needs of landing a fish without harm to you or the fish. 
DESIGNED BY A FISHERMAN FOR A FISHER(WO)MAN
Over-Center Locking
Unique Flexheart™ Jaw Design
Durable Plastic & Metal Construction
Weight Scale Slot
High Visibility
Wrist Lanyard
Floats
THE FISH GRIP IS PROUDLY MADE IN AMERICA
We only employ US citizens, and we pride ourselves on being able to provide a stable place for our dedicated staff to work. This allows us to ensure quality standards as we oversee each and every unit that is produced. These aren't foreign manufactured devices that we shipped straight to a store. Every single Fish Grip is machined, constructed, inspected, and tested at our plant located in the deep South.
---
Visit Mariner Sails retail store
Mariner Sails, Inc., 11110 N. Stemmons Fwy, Dallas, TX 75229, 972-241-1498
Come down to our retail store to experience the largest collection of Kayaks - be amazed by the vast options in accessories or come have a chat with our staff members - experienced sailors, kayak anglers, windsurfers - with over 100 years of combined "on-the-water" experience.

9am - 5pm Monday- Friday (Temporary Hours)
10am - 4pm Saturday (Loft Closed on Saturday)

Learn more about our store
Serving water sports enthusiasts for over forty seven years specializing in Kayaking, Windsurfing, SUP, Sailing and Sail Making.