ARIA 5.11
The Aria 5'11" board is the ideal solution for learning to wingfoil and progressing fast. Its 120L volume makes it a great fit for most sizes of rider.
The fairly flat rocker profile makes take-off easy, and its bevelled rail guarantees optimum performance as well as reducing risk of snagging when it touches water during turns and when leaning/banking the board. It never « sticks » to the water surface. The reduced rear rocker makes waterstarting simple and makes it more forgiving during in-flight water touches.
Its Superfly X construction (BiaX Carbon) is extremely tough, stiff and light weight, giving great responsiveness and optimum performance. The deck inserts make foot-straps a perfect option for riders who like a little more hold during jumps.
The double-rail system helps precision-mount the foil, while the generous deck pad and kick tail guarantee you maximum ride comfort.
KEY FEATURES & BENEFITS
CONSTRUCTION SUPERFLY X (SFX)Tough build, rigid, light-weight
COMPACT LENGTH AND WIDE PROFILE: Excellent stability on the water and in flight
REDUCED REAR ROCKER: Easy waterstarts, and very forgiving when snagging the surface. Never "sticks" to the water
CLOSE-SET FOOT STRAP INSERTS: Adapt easily to your riding style
DOUBLE-RAIL: Precision-mounting of the foil
INTEGRAL HULL-MOUNTED HANDLE: Easy transportation with the foil fitted
EVA DIAMOND-GROOVE DECK PAD AND KICKTAIL: Premium quality materials for maximum ride comfort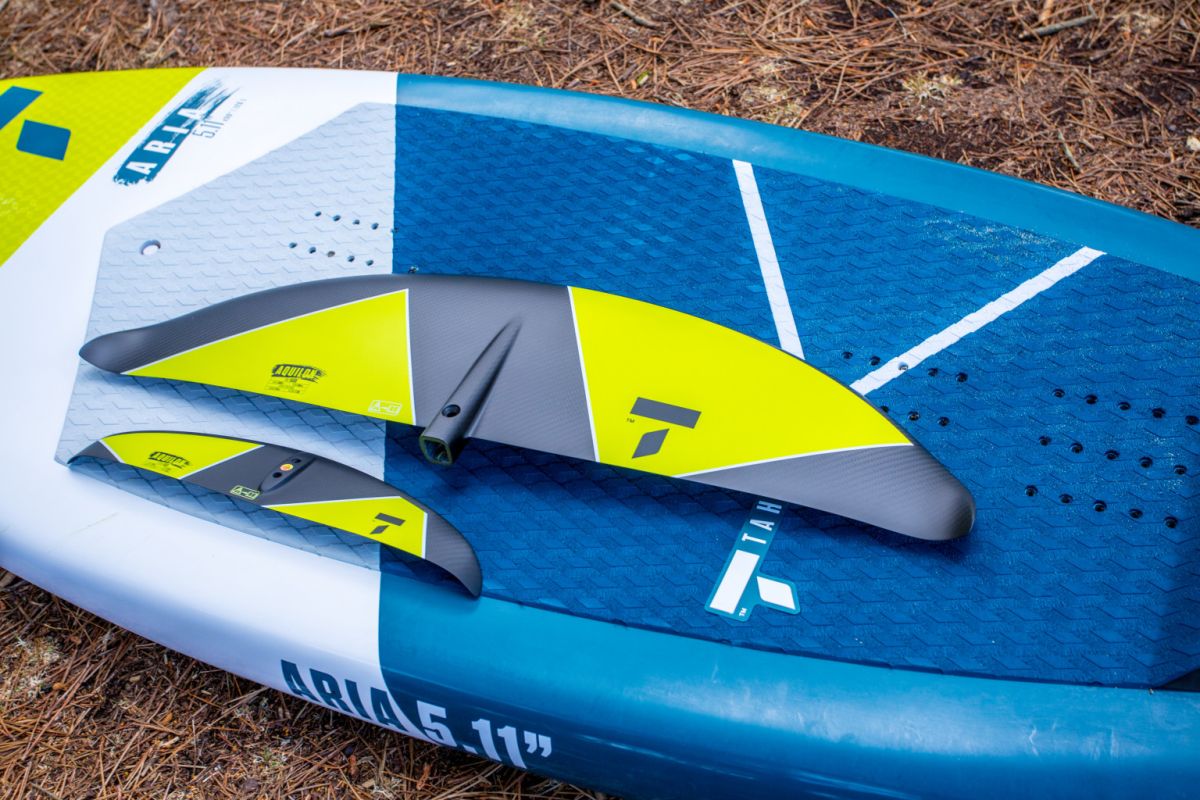 ---
TECHNICAL SPECS
Code: 108292

Model: Aria

Max Riders Weight: 240 lbs / 110 kg

Length: 5'11" / 180 cm

Width: 30" / 76 cm

Volume: 120 L

Weight: 19 lbs / 8.6 kg

Thickness: 4,72" / 12 cm

Finbox Configuration Set Up: Double US box

Supplied fin(s)-

Handle Type: EZ Grab

Product Type: Rigid composite

Technology: SFX

Country of Manufacture: China
Visit Mariner Sails retail store
Mariner Sails, Inc., 11110 N. Stemmons Fwy, Dallas, TX 75229, 972-241-1498
Come down to our retail store to experience the largest collection of Kayaks - be amazed by the vast options in accessories or come have a chat with our staff members - experienced sailors, kayak anglers, windsurfers - with over 100 years of combined "on-the-water" experience.

9am - 5pm Monday- Friday (Temporary Hours)
10am - 4pm Saturday (Loft Closed on Saturday)

Learn more about our store
Serving water sports enthusiasts for over forty seven years specializing in Kayaking, Windsurfing, SUP, Sailing and Sail Making.