A platform for mounting fish finders or chart plotters with U shaped brackets, making them easily removable. All that remains on the deck once it's removed is a low profile RAILBLAZA mount.
This 3 axis mount has friction joints top and bottom featuring R-Lock lockable joints (pat pending). The centre joint is fully adjustable in 15-degree increments. Will take fish finders up to 1.5kgs (3.3 lb). Mount on an angled surfaces and have your display level!
Also with the correct RAILBLAZA mount, you can mount your fish finder on a rail, or inflatable tube!
Fits most fish finder brands, including;
Lowrance Hook2, Lowrance HDS, Lowrance Elite
Garmin Striker Plus, Garmin Echomap
Humminbird Helix, Humminbird ICE Helix
You may need to drill holes to fit some sounders
Use the RAILBLAZA Fish Finder Mount R-Lock R with any RAILBLAZA StarPort.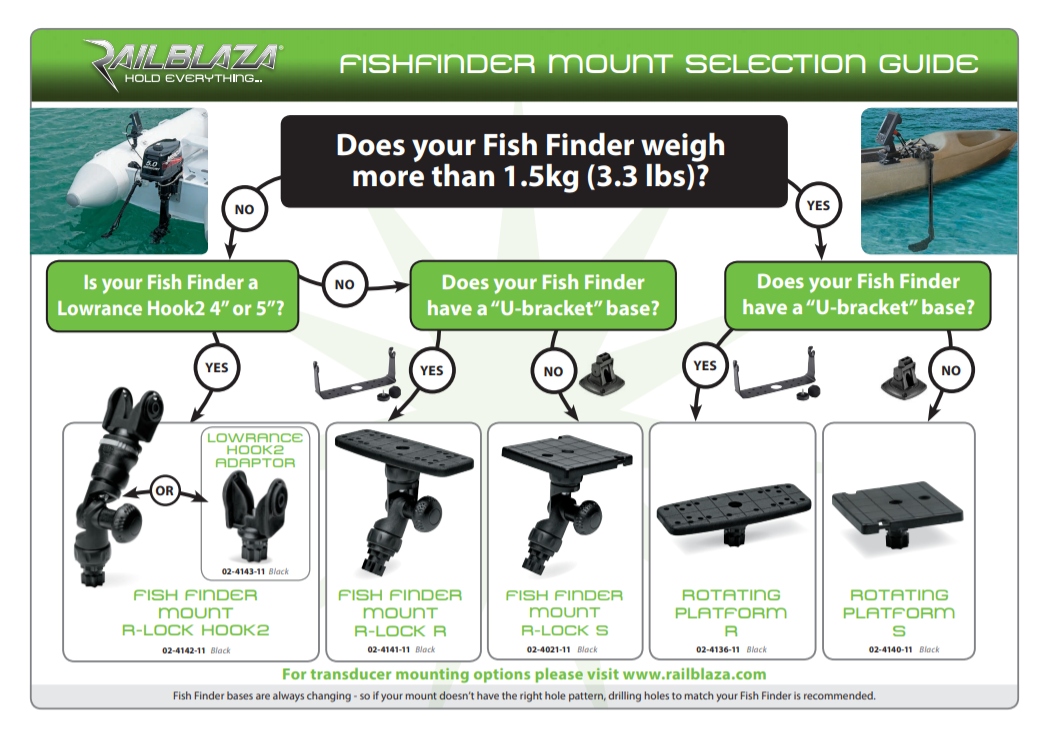 Includes:
Fish finder mount R-Lock R, Platform size 160 x 60mm (6.25 x 2.3 in), Platform height 170mm (6.7 in)
Materials:
Platform, extender & Adaptor - UV stabilized fiberglass reinforced plastic
Stainless steel fasteners
Visit Mariner Sails retail store
Mariner Sails, Inc., 11110 N. Stemmons Fwy, Dallas, TX 75229, 972-241-1498
Come down to our retail store to experience the largest collection of Kayaks - be amazed by the vast options in accessories or come have a chat with our staff members - experienced sailors, kayak anglers, windsurfers - with over 100 years of combined "on-the-water" experience.

9am - 5pm Monday- Friday (Temporary Hours)
10am - 4pm Saturday (Loft Closed on Saturday)

Learn more about our store
Serving water sports enthusiasts for over forty seven years specializing in Kayaking, Windsurfing, SUP, Sailing and Sail Making.