FSE Robline Racing Sheet
Racing Sheet Pro is the outcome of the continued development efforts of FSE Robline®. Made of a mix of impregnated Dyneema® and XLF, the core provides even greater stability in the cleats and allows sailors to use Racing Sheet Pro even in its stripped state. The cover made out of a Polyamide/Dyneema® weave makes this sheet abrasion resistant and gives it good grip and excellent stretch performance.
Size Diameter
daN
g/m
American
Metric
1/4 in
6 mm
1100
20 gr
5/16 in
8 mm
1900
33 gr
3/8 in
9 mm
2400
39 gr
13/32 in
10 mm
2900
48 gr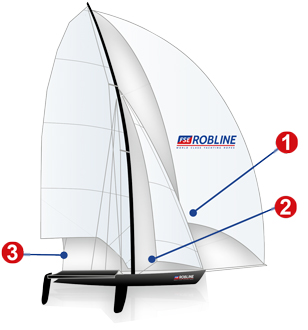 Applications

Dinghy

Spi sheet (1)
Jib sheet (2)
Main Halyard (3)

Material
Dyneema® SK75 / Polyamide 12
Dyneema® SK75 / XLF 12

Features
Lowest stretch and highest breaking strength
Good UV-stability
Abrasion resistant
Low weight
Soft
Kink free
Good ability on winches
Good in cleats
High breaking strength
Spliceable
Low water absorption
Dyneema® core: lowest weight with the highest breaking strength
Polyethylene which is the raw material for Dyneema® is changed on a molecular basis and in addition is stretched in one direction. These stretched molecule chains increase the breaking strength and decrease the elongation. Therefore Dyneema® has the lowest stretch at break of all synthetic fibers. Dyneema® has a very low specific weight and is therefore buoyant. The only disadvantage is that it creeps more than some other raw materials.
This means the cover can easily be removed from the rope ends without reducing the breaking strength due it's fiber shows a permanent elongation under load. Dyneema® is used as core material in high-tech ropes. The core will carry the load whereas the cover is just used for abrasion and light protection. Therefore Dyneema® it has too a good abrasion resistance and resistance against sunlight.
| | |
| --- | --- |
| Raw Material | UHMWPE |
| Strength (daN/mm2) | 345 |
| Specific Weight (g/cm3) | 0.97 |
| Water Intake % | 0 |
| Sun Resistance | very good |
| Elongation | 3.5 |
| Abrasion Resistance | very good |
| Creep | at high loads |
| Melting Temperature | 140° |
Visit Mariner Sails retail store
Mariner Sails, Inc., 11110 N. Stemmons Fwy, Dallas, TX 75229, 972-241-1498
Come down to our retail store to experience the largest collection of Kayaks - be amazed by the vast options in accessories or come have a chat with our staff members - experienced sailors, kayak anglers, windsurfers - with over 100 years of combined "on-the-water" experience.

9am - 5pm Monday- Friday (Temporary Hours)
10am - 4pm Saturday (Loft Closed on Saturday)

Learn more about our store
Serving water sports enthusiasts for over forty seven years specializing in Kayaking, Windsurfing, SUP, Sailing and Sail Making.