FPV-10354 - Parallel Wiring Coupler 60A - IP67 Rated Waterproof
Discription:
FPV-Power makes it easy for you to wire your 50A Lithium Batteries in parallel.  The Parallel Wiring Coupler is Plug and Play, no wiring and soldering connections just plug your batteries positive terminal and your batteries negative terminal and you are done and ready to make your connections with your trolling motor.  These Couplers are 60A rated they are heavy duty and are used with our 50Ah Batteries to wire in parallel by Plug and Play. 
How Does it Work:
Male vs. Female
FPV-Power couplers are designed to meet your wiring needs.  Our coupler connections are not like the less expensive connectors with low amp readings.  The FPV-Power couplers are designed as a perfect waterproof match for our IP67 Rated Battery Connections which are rated and designed at 60A. With our Couplers you will receive a perfect match 1 male coupler and 1 female coupler which match our batteries 60A waterproof connectors. 
How You Will Connect:
This is a very simple process we can start with the Female connector.  We will take the Female Battery connections from both 50A Batteries and plug them into the Female Coupler.  We will now take the Positive connectors from the two 50a Batteries and plug them into the Male Coupler.  So now we have the two males wired together and the 2 females wired together. What this just accomplished is it took the two FPV- Power 50A Batteries and it kept the voltage the same (12 Volts), but it doubled the current (Amps), because when you wire in parallel, you're going to be doubling your current (Amps) so what you end up with is 100 Amps of power.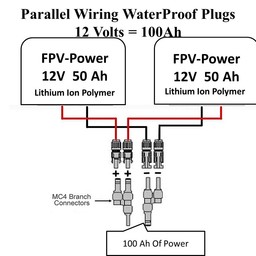 Visit Mariner Sails retail store
Mariner Sails, Inc., 11110 N. Stemmons Fwy, Dallas, TX 75229, 972-241-1498
Come down to our retail store to experience the largest collection of Kayaks - be amazed by the vast options in accessories or come have a chat with our staff members - experienced sailors, kayak anglers, windsurfers - with over 100 years of combined "on-the-water" experience.

9am - 5pm Monday- Friday (Temporary Hours)
10am - 4pm Saturday (Loft Closed on Saturday)

Learn more about our store
Serving water sports enthusiasts for over forty seven years specializing in Kayaking, Windsurfing, SUP, Sailing and Sail Making.