THE RVR 119 WILL TAKE KAYAK RIVER FISHING TO A 
WHOLE NEW LEVEL
Kayak fishing at its roots, is about access. With the new RVR119, you can get to those hard to reach waters. We designed the RVR with three main principles; hull-ability, mobility/transport, and fishability. The RVR is effectively a two-in-one fishing kayak with the retractable skeg system - when the skeg is deployed, the RVR can track straight across flat water and with the skeg retracted the RVR is the definitive river fishing kayak.
SPECS:
| | | | | |
| --- | --- | --- | --- | --- |
| Length | Width | Weight | Capacity | Outfitting |
| 11'9" | 35" | 86lbs | 425lbs | Hand-Sewn Frame Seat |
The RVR is absolutely loaded with other features and Head of Bonafide Design, Hans Nutz gives a detailed walk through of those in the video here. The RVR is three years in the making and we are absolutely fired up with how it turned out! We think you are going to love it too. Check it out!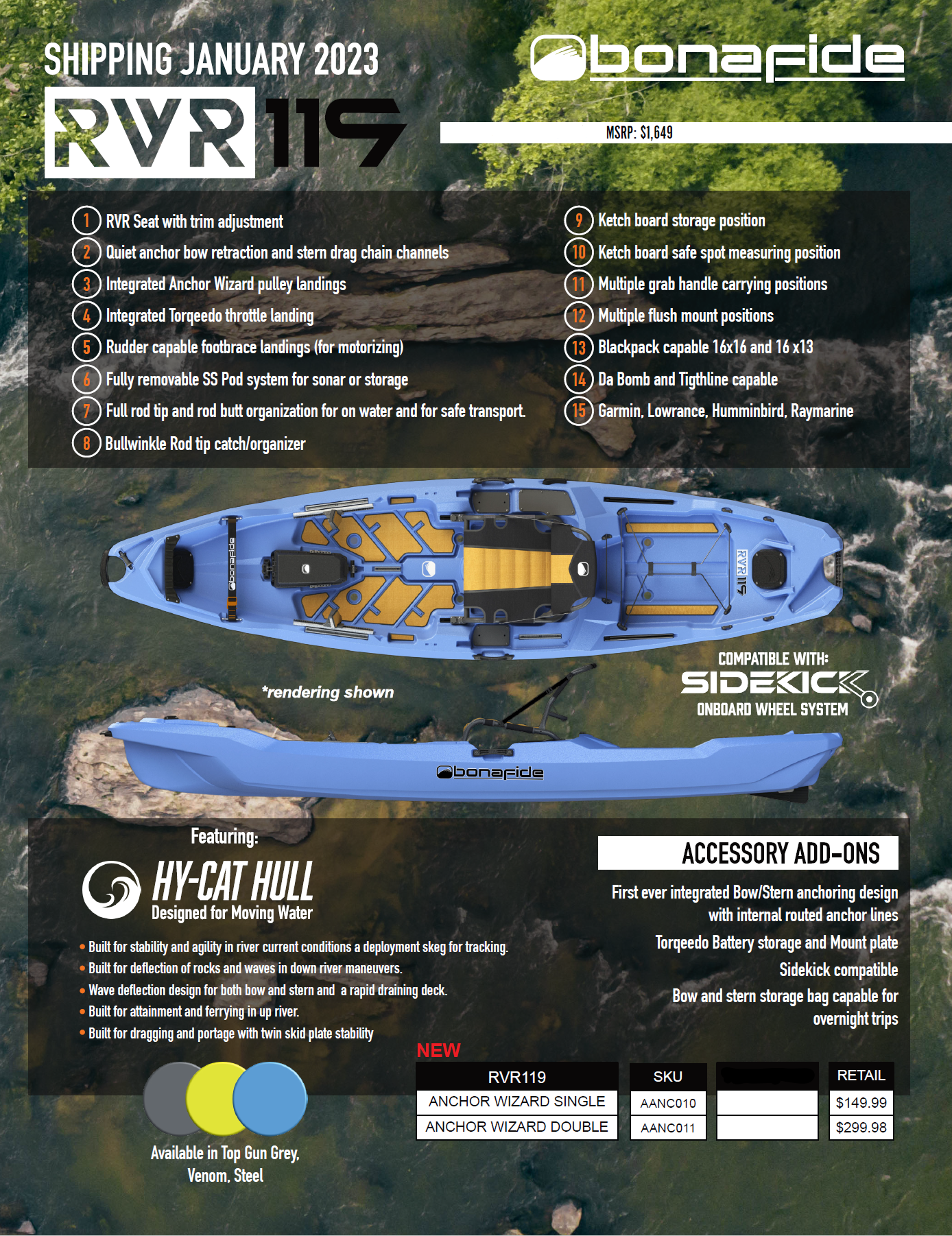 Visit Mariner Sails retail store
Mariner Sails, Inc., 11110 N. Stemmons Fwy, Dallas, TX 75229, 972-241-1498
Come down to our retail store to experience the largest collection of Kayaks - be amazed by the vast options in accessories or come have a chat with our staff members - experienced sailors, kayak anglers, windsurfers - with over 100 years of combined "on-the-water" experience.

9am - 5pm Monday- Friday (Temporary Hours)
10am - 4pm Saturday (Loft Closed on Saturday)

Learn more about our store
Serving water sports enthusiasts for over forty seven years specializing in Kayaking, Windsurfing, SUP, Sailing and Sail Making.