ALIZE WING 6.0
Just like the warm, steady winds that blow in the tropics, the Alizé Wing is light and stable. Guaranteed take-off!
Easy to control, its compact design allows you to enjoy your ride without touching the water. Its rigidity makes sailing simple and reduces risk of flapping. The ergonomic centre batten allows you to adjust power quickly and easily during your ride.
Two wide-tube mini-booms extra larges enable you to position your hands precisely and make the Alizé very simple to use and control.
The Alizé's amazing stability makes it well-adapted to all skill levels: beginners, schools and more advanced riders in progression.
Recommended wind range: for beginners between 11 and 20knt, for intermediate/advanced riders between 8 and 20knt. Available in 4 sizes from 3m2 to 6m2.
---
KEY FEATURES & BENEFITS
COMPACT AND « RIGID » WINGStable flight and easy relaunch
DACRON TECHNOLOGYLight weight and extended product life
ERGONOMIC INFLATABLE CENTRAL BATTEN WITH SLIGHT UP-LIFTEasy relaunch. Very efficient when « pumping » for power
2 WIDE-TUBE MINI-BOOMS WITH EVA FOAM GRIPSEasy to control, excellent comfort and grip when fully powered-up
2 RUSH-AIR INFLATION/DEFLATION VALVES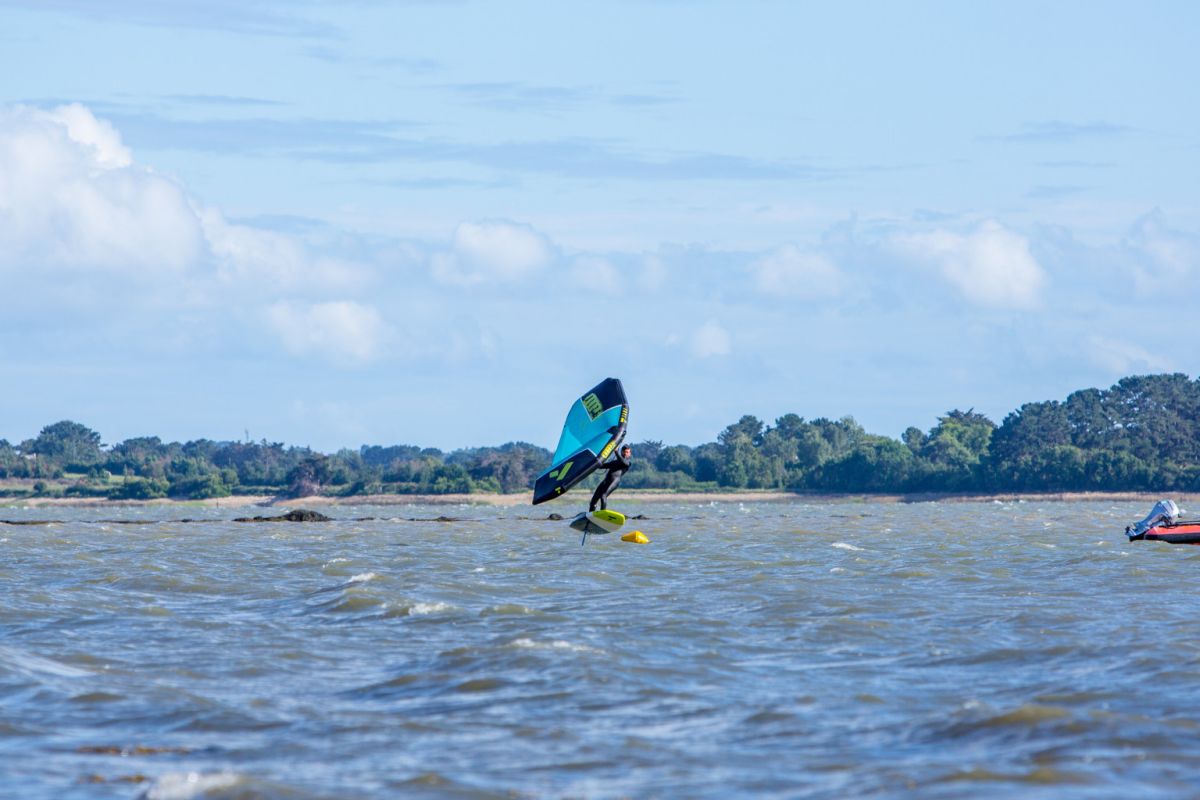 ---
TECHNICAL SPECS
Code108297

WindowsNo

Front Handle1

Bladder Handle2

Sail Material3DF

Bladder MaterialTPU

Length Central Bladder236 cm

Wing Span379 cm

Weight7.05 lbs / 3.2 kg

Country of ManufactureSri Lanka
PACKAGE INCLUDES
INCLUDED WITH THE WING:
1x 6.0'' Alizé wing
1x Transport bag
1x Wrist leash
1x Pump
1x Repair kit
Visit Mariner Sails retail store
Mariner Sails, Inc., 11110 N. Stemmons Fwy, Dallas, TX 75229, 972-241-1498
Come down to our retail store to experience the largest collection of Kayaks - be amazed by the vast options in accessories or come have a chat with our staff members - experienced sailors, kayak anglers, windsurfers - with over 100 years of combined "on-the-water" experience.

9am - 5pm Monday- Friday (Temporary Hours)
10am - 4pm Saturday (Loft Closed on Saturday)

Learn more about our store
Serving water sports enthusiasts for over forty seven years specializing in Kayaking, Windsurfing, SUP, Sailing and Sail Making.