Designed to keep anglers in the chase, ePDL+ combines pedal and battery assist to propel your fishing experience to the next level. With ePDL+ drive you have options. In it for the long haul? Fish all day with light to moderate motor assist. Need to get there quick? Crank it up and get there first. Need a break? Set it to cruise control and let the motor get you there. With motorized versatility at your fingertips, your odds out on the water just got a whole lot better.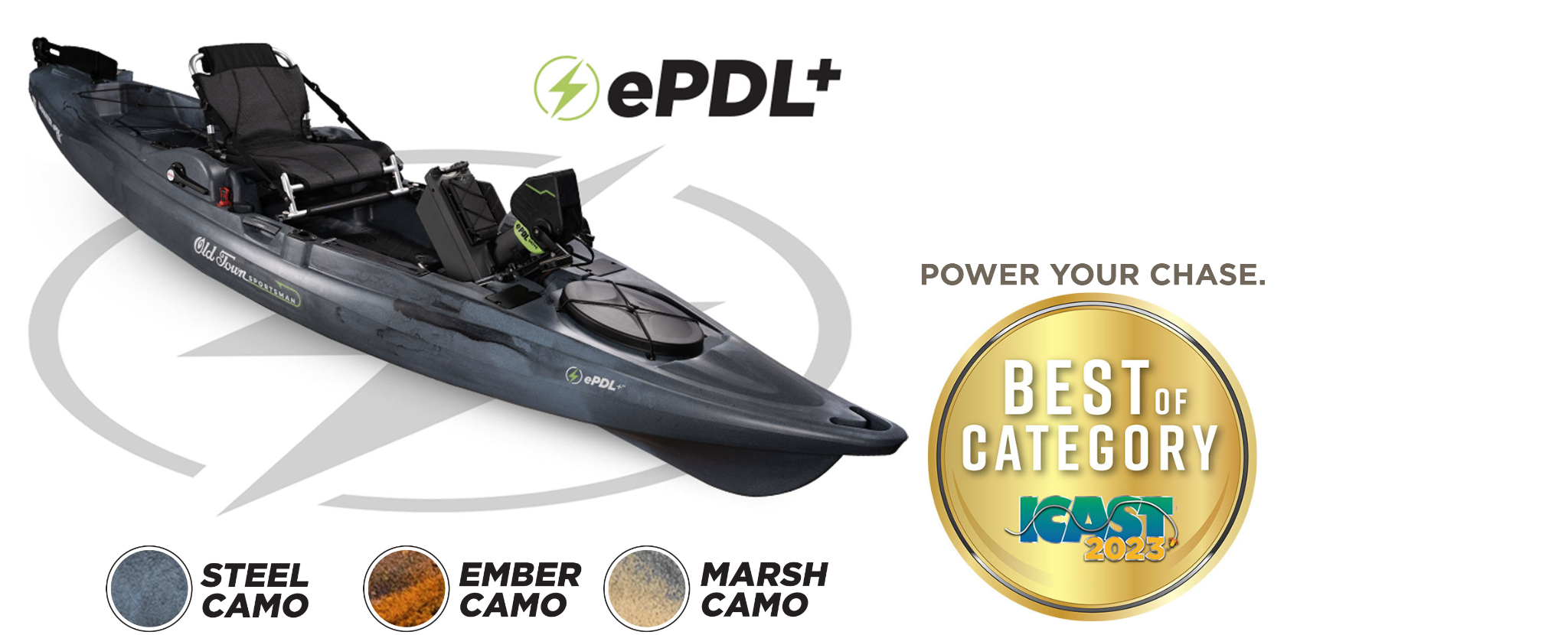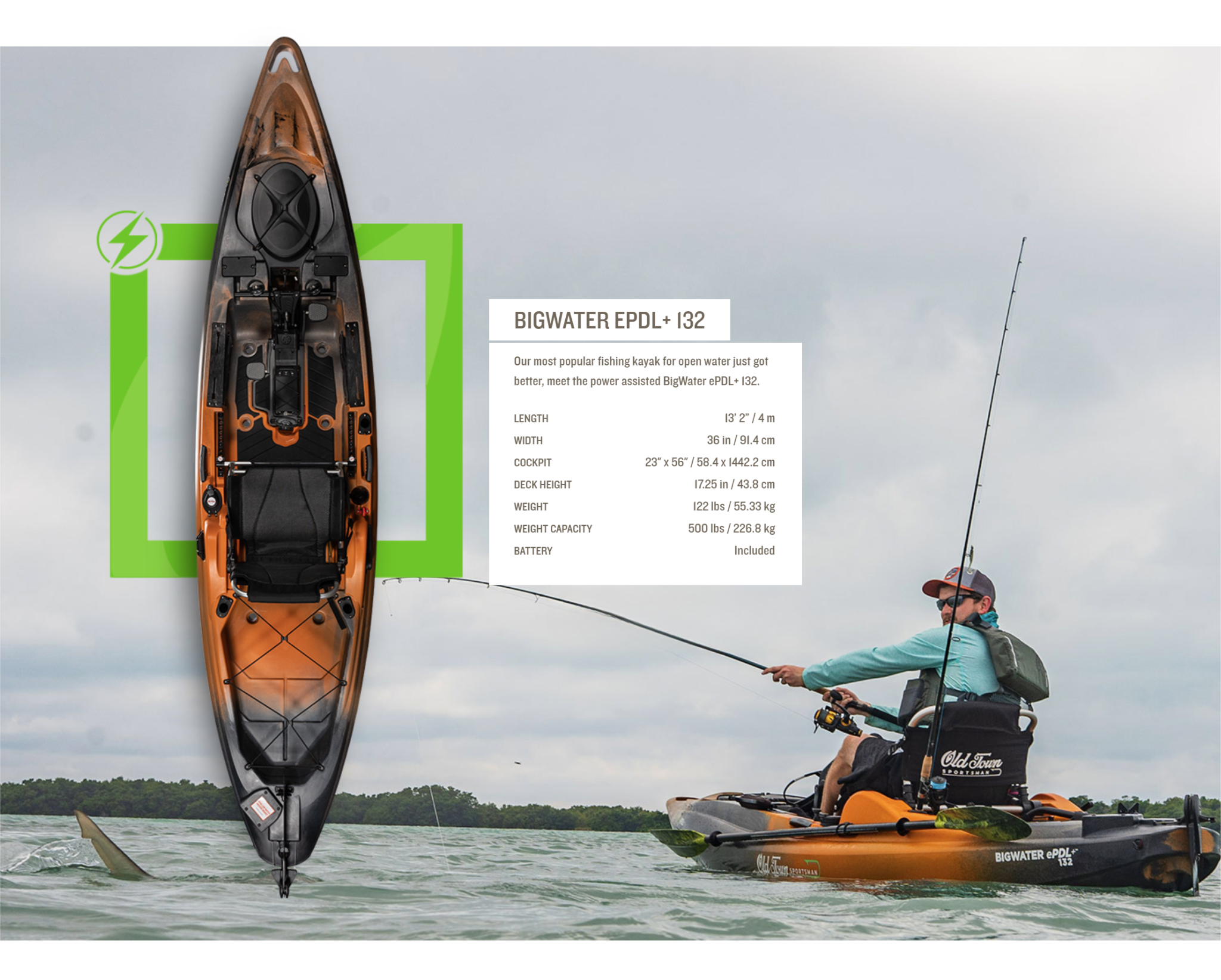 SPECIFICATIONS:
LENGTH
13' 2" / 4 m

WIDTH
36 in / 91.4 cm

COCKPIT
23" x 56" / 58.4 x 1442.2 cm

DECK HEIGHT
17.25 in / 43.8 cm

WEIGHT
122 lbs / 55.33 kg

WEIGHT CAPACITY
500 lbs / 226.8 kg

BATTERY
Included
Features:
Power Assisted Pedal Drive equipped with 5 speed settings
Motorized Cruise Control with 5 speed settings
Upgraded stern tank well optimized for a variety of crates and coolers
Includes a compact, powerful 36V 20Ah Li-Ion battery and charger
Ready for rigging. Two Accessory tracks and two drillable mounting plates allow you to easily
mount all of your favorite accessories
Non-slip EVA foam deck pads provide traction and stand-up comfort
Transducer mount allows you to easily mount your fish finders transducer
Dry storage for additional gear in the sealed bow hatch and additional dry storage in the drive
console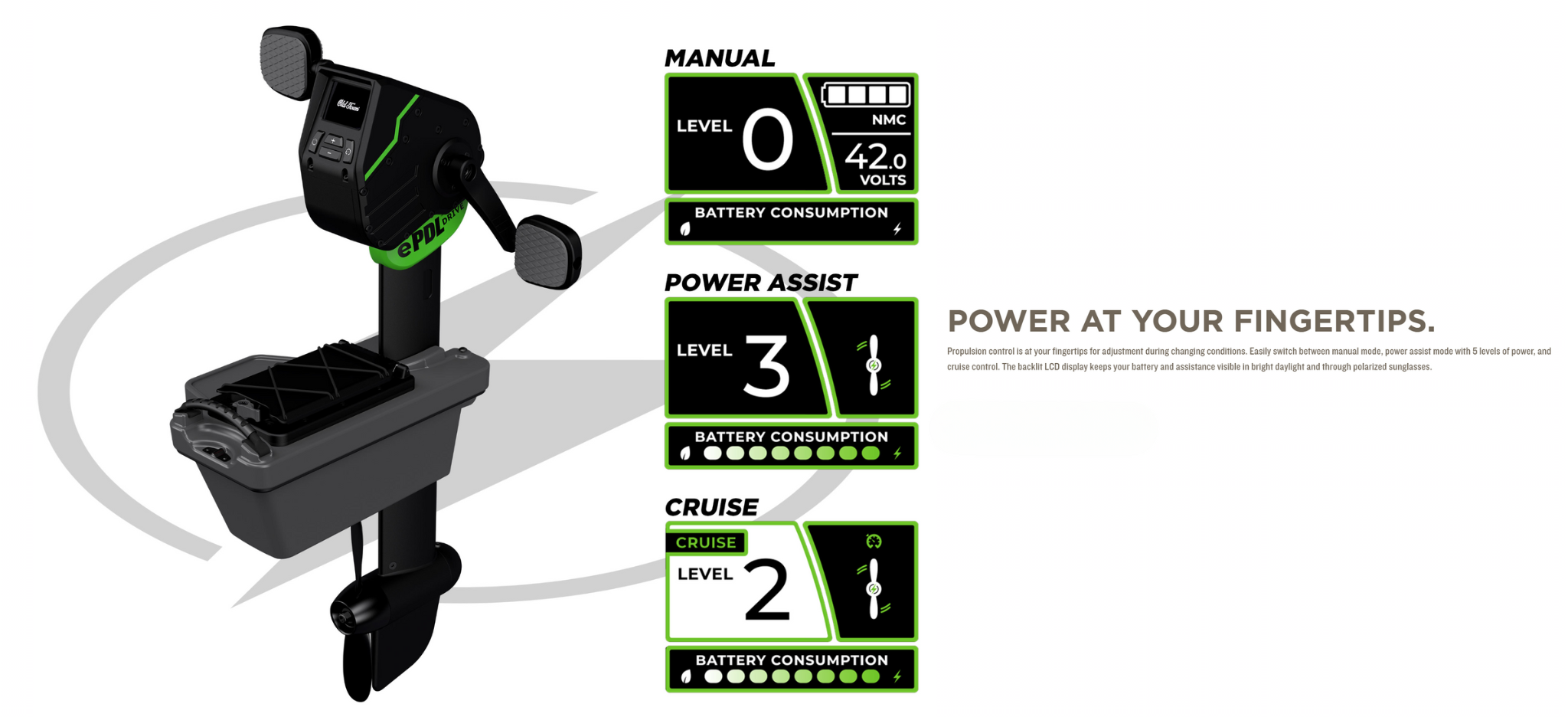 POWER AT YOUR FINGERTIPS.

Propulsion control is at your fingertips for adjustment during changing conditions. Easily switch between manual mode, power assist mode with 5 levels of power, and cruise control. The backlit LCD display keeps your battery and assistance visible in bright daylight and through polarized sunglasses.
Frequently Asked Questions
I want one! When can I get my hands on one?

The Old Town Sportsman BigWater ePDL+ 132 will begin shipping to our dealers in early 2024. If you pre-ordered through Mariner Sails, we will contact you to schedule a pickup when the kayak arrives.

How much is the deposit? 

Mariner Sails requires a minimum 50% deposit for all special orders.

Can I order one directly from Old Town?

The Sportsman BigWater ePDL+ 132 is available exclusively through our dealer network. Old Town is not accepting any direct orders or pre-orders at this time.

How much does it cost?

The Old Town Sportsman BigWater ePDL+ 132 costs $5,999.99 and includes a 36V lithium ion battery.

Can I retrofit my BigWater PDL 132 or Predator PDL for the ePDL+ drive?

The ePDL+ drive cannot be retrofitted to fit BigWater PDL or Predator PDL models.

Will the ePDL+™ Drive work without the battery?

The ePDL+™ Drive is operational as a non-powered PDL Drive when not connected to the battery. This is referred to Manual Mode. The display will not power on and the Power Assist/Cruise Control Modes will not function.

How long will the battery last?

A fully charged battery on the highest Cruise Control Mode setting with average load and calm conditions will last approximately 3 hours. Durations in Power-Assisted Pedal Mode are dependent on speed variability and manual pedaling input.

Cruise Control Mode 1: 46 hours*
Cruise Control Mode 3: 23 hours*
Cruise Control Mode 5: 3 hours*
*New, fully charged battery on flat water with a moderate load. Your run times may vary.

Do I need to register my BigWater ePDL+™ 132?

We recommend registering your BigWater ePDL+™ 132. Most states require any motorized vessel to be registered. Always check with local regulations for watercraft registration and safety requirements in your area.
Visit Mariner Sails retail store
Mariner Sails, Inc., 11110 N. Stemmons Fwy, Dallas, TX 75229, 972-241-1498
Come down to our retail store to experience the largest collection of Kayaks - be amazed by the vast options in accessories or come have a chat with our staff members - experienced sailors, kayak anglers, windsurfers - with over 100 years of combined "on-the-water" experience.

9am - 5pm Monday- Friday (Temporary Hours)
10am - 4pm Saturday (Loft Closed on Saturday)

Learn more about our store
Serving water sports enthusiasts for over forty seven years specializing in Kayaking, Windsurfing, SUP, Sailing and Sail Making.