Introduction
Kayaking is making the use of a small human powered vessel called a kayak with a double bladed paddle for personal transportation over water. Kayaks are similar to canoes, except that the paddler is almost always in a seated position with feet facing forward while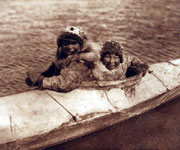 using a double bladed paddle. Kayaking is one of the fastest forms of paddling, it is also one of the easiest paddling sports, as most kayaks can be easily transported and controlled on the water.
The first kayaks were believed to be in use at least 4000 years ago. They were mostly used in North America in the Atlantic northwest and the Pacific Northeast by various native peoples who used them for transportation, fishing, and hunting. Much like today, those native peoples had different types of kayaks for different uses. Some were tandem or two-seater kayaks, while others were used for transporting cargo. These early kayaks were built from animal skins stretched over a wooden or bone (depending on which was more available) frame.
Benefits of Kayaking
There are many benefits to kayaking - certainly too many to list in one article.
Health and Fitness – kayaking is a great way to maintain muscle endurance and tone. Most kayaks allow for all the muscles in the upper body and core to be exercised.

Adventure and Experiences – kayaking can provide many experiences involving exploration, sightseeing, fishing, and many others.

Connection with Nature – paddlers gain an appreciation for the beauty of the places that they kayak. This leads to a stronger sense of environmental awareness and a stronger attunement to nature.

Increased Social Life – kayakers are generally very friendly and gregarious, and they come from all walks of life. There are many paddler and kayak fishing groups that meet up for joint paddles or activities.
Kayak Design Principles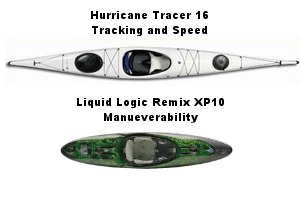 Kayak designs vary depending on their roles. Designs are usually a balance of compromises. Factors that affect speed are the weight, width and length – long kayaks have better tracking ability and speed, while short and wide boats are usually easier to turn and maneuver. Stability is achieved with a combination of boat width and buoyancy.
Extremely stable boats sometimes suffer in performance, but there are a number of hull design features that can increase performance, such as long chines and channels in the hull. Many kayaks can be equipped with a rudder for better directional control. Some also feature a skeg or small fin that increases the kayaks ability to track, or stay on the intended course.

Types of Kayaks
There are kayaks available for almost any type of person, outdoor application, and condition. Choosing the right kayak can sometimes be a daunting task. Kayak owners choose their kayak based on what they want to do on the water.
Sit-Inside vs Sit-On-Top Kayaks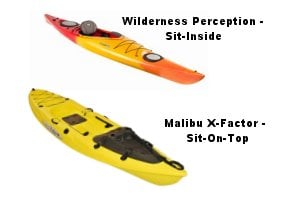 There are two basic designs of kayaks; the sit inside and the sit-on-top. The sit-inside kayaks are the more traditional design. The rider sits inside a small cockpit where the shell of the kayak usually covers some portion of the paddler's body or legs. Sit inside kayaks are very good performers providing an intimate feel of what the kayak is doing. This makes for good speed and maneuverability. There are a few drawbacks of sit-inside kayaks: they can get water inside the hull, which eventually must be bailed or drained. This can get the rider slightly wet from paddle drip in the best case scenario, but if the conditions are extreme, such as chop, waves, or whitewater, the kayak can fill with water and become a safety hazard. A cockpit skirt can be fitted on many sit-insides to help keep water out. A paddler should be aware of what level of conditions he or she can paddle in, and weigh the risks, to prevent this issue.
Sit-on-top kayaks have a completely enclosed hull with a high deck or riding area on the top. Sit-on-tops are very easily accessible, and usually have scupper holes that allow water to 'self-bale' or drain out of the deck of the kayak. A properly designed sit-on-top does not fill with water allowing only a miniscule amount to get inside the hull itself. This means that a sit-on-top is easier to self-rescue or right if it is capsized. Sit-on-tops tend to have the rider sit higher off the water than in sit-insides. Sit-on-tops are very popular among kayak fisherman because of their excellent stability and ability to take equipment modifications (such as fishing gear.
Fishing Kayaks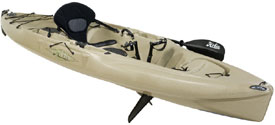 Fishing from a kayak has several advantages over fishing from the shore or from a powerboat. Unlike fishing from the bank, options for reaching good fishing spots are opened up with a kayak. Kayaks are much quieter than power boats; this provides an advantage for catching certain fish that easily spook. A kayak can reach cramped or shallow areas that a powerboat cannot reach. Finally, a paddler has an opportunity to really examine an area of water thoroughly for fish – often such areas are missed or ignored by powerboat fisherman.
Kayak fishing has seen a recent resurgence in the last couple of decades. In the United States and other developed countries, fishing has usually been done from powered watercraft. With rises in gas prices, the cost of registering and maintaining a powerboat, and other factors, kayaking has returned to its roots. From ancient times kayaks have been used primarily for fishing and hunting.
Kayak fishing is possible from just about any kind of kayak. What kayak fishermen look for in a kayak is utility. Many kayak fishermen carry a lot of fishing gear such as rods, tackle, bait, and supplies for an extended voyage. For this reason most fishing kayaks have ample storage space. They also have options for mounting various types of fishing gear, such as rod holders, fish finders, or other mounts. Good stability and buoyancy allow kayak fisherman to move about their kayak liberally without fear of capsizing their boat. Some fishing kayaks are designed with the capacity for the rider to stand in.
Recreational kayaks are usually considered multi-role kayaks that do not fit into any particular category. They are primarily for fun. Recreational kayaks are designed to be user friendly, stable, and versatile. This form of kayaking is popular for beginners or anyone who is uncertain about what type of kayaking they want to get into. These kayaks are for casual, short range sessions with no particular goal in mind. Many recreational kayaks cross over into the role of fishing, whitewater, or touring.
| | | |
| --- | --- | --- |
| Recreational kayaks | Touring kayaks | Whitewater kayaks |
| | | |
| Wilderness Systems Pamlico 100 | Hobie Mirage Adventure | Liquid Logic |
Touring kayaks are designed to go a long distance in a reasonable amount of time accounting for the possibility of a long expedition. They are also often referred to as sea kayaks. These kayaks are usually long and fast. They can carry gear on camping trips or long voyages.
Whitewater kayaks are designed for rapids or surf. They are usually very maneuverable so that the paddler can control the kayak in extreme conditions. There are several classes of rapids, rated from class 1 to class 5, with class 5 being the most extreme and potentially dangerous. The more extreme the rapids the greater the need for a proper whitewater kayak and sufficient skills to deal with the conditions. Most whitewater kayaks will be rated for the corresponding rapids that they can reasonably perform in.
Peddle Driven Kayaks
In the last decade several peddle driven kayaks, where the paddler uses his or her legs to power a drive system, have appeared on the market. Hobie has a line of kayaks called the Mirage series, which uses a peddle mechanism and fins to propel the boat forward. Native watercraft has a crank driven propeller drive called the Propel for many of its boats.
Hybrid Kayaks
Some small boats can be used like a kayak although it is difficult to classify them as a kayak. There are kayaks that have an open hull much like a canoe, and can be paddled with a single bladed paddle. Others are pretty close to a full-fledged rowboat. There are some designs that can attach a mast, sail, and pontoons on outriggers to convert to small sail boats, what we call a sail-yak. And some cannot really be classified at all.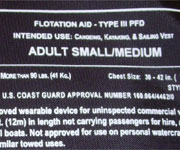 Safety
There are two basic rules of thumb when it comes to kayak safety. One is to wear a life jacket, and the other is to stay with the kayak.
Should you be separated from your kayak while far from land, a life jacket will insure that the paddler will not get tired and drown while trying to make it to safety. A US coast guard approved life jacket is designed to keep the user afloat for several days or weeks without issue.
Staying with the kayak affords several advantages. A capsized kayak can easily be righted in most cases. Even a damaged kayak can serve as a floatation device. Hanging onto the kayak will insure safety even when not wearing a life jacket. If the paddler is far from civilization, a kayak is more visible than an individual floating in the water – this makes it easier to find a paddler in trouble for rescue.
When paddling in cold water hypothermia can be a grave danger even in water as warm as sixty degrees. A good wetsuit can resolve this problem by keeping the paddler warm for a longer period of time and allow them a better chance of reaching safety in time.
his wetsuit shown left will help a lot to keep hypothermia at bay until safety can be reached.
In many situations the local regulations will require the paddler to have safety gear on the person, or the boat. Usually at night a light that can be seen in all directions is required.
Accessorizing
There are endless ways to accessorize and/or mount gear on the kayak. Some kayaks have mounting systems and gear tracks that can allow gear to be easily fitted and removed in seconds. Most mounts will require that holes be drilled into the hull of the kayak where it can be secured with nuts and bolts. To prevent water leakage around these mounting hulls, silicon sealant can be used, rubber well nuts, or no sealant at all in situations where kayaking is done mostly in calm waters. The most common accessories for kayaks include life jackets, dry bags, paddle leashes, rod holders, lights, and anchor kits.
Where to Kayak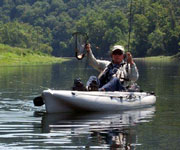 Lakes
Lake conditions vary depending on the size and composition of the lake. Many lakes are so small that they rarely get rough even when the weather is extreme. Other lakes are so vast that a heavy duty kayak is required when conditions are rough. Lakes are also connected to many rivers and streams, which can expand a kayakers experience. Kayak fishing for bass, crappy, catfish, and other freshwater fish is very popular on lakes. Small to large fishing kayaks are ideal on most lakes. Recreational kayaks are often kept at lake houses, and are available for rent at many lakes.
Sea
Kayaking can be found in small coastal estuaries, surf zones, and even miles out to sea. Kayaking in small bays is much like lake kayaking, with a variety of fishing and touring options available. Out to sea the goal is often fishing, diving, or touring. Large, stable boats are used for offshore fishing. A variety of huge fish can be caught from a kayak. For diving, a large kayak that can carry a lot of gear is necessary. And for touring, a fast and efficient, yet stable boat that can carry gear is favored.
Streams, Creeks, and Rivers
The conditions on streams, creeks, and rivers vary from calm to extreme. The later may have strong currents, whitewater and rapids, and extreme rip-curls. On a calm river, bayou, or stream the options for fishing and hunting from a kayak are endless. Opportunities for photography or long distance touring are also taken on rivers and streams.
Local Paddling Locations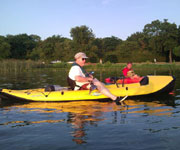 White Rock Lake
Many are unaware of the paddling opportunity available right in the middle of Dallas at White Rock Lake which offers parks, recreation areas, and a view of the downtown Dallas skyline from the water. On this small lake no power boats are permitted. At White Rock there are several groups who have weekly paddling meet ups. Mariner Sails also offers kayak demos at White Rock at the Dallas Corinthian Yacht Club. White Rock Lake is a historical and popular venue for all manner of paddling, sailing, and recreational activities.
Lake Lewisville
This large lake just north of Dallas extending towards Denton is possibly the busiest lake in North Texas. The most active part of the lake is the southern portion. From Lake Lewisville Park there are many locations to launch a kayak. In the summer this lake can be dangerous due to all the powerboat and jet ski traffic. However the northern part of the lake is far quieter with endless options for scenic touring or kayak fishing.
Lake Ray Hubbard
This vast lake east of Dallas is a popular fishing lake at all times throughout the year. In the summer it can become busy with powerboats and jet skies on the southern part of the lake, however it is less busy than Lewisville. North of the 66 bridge is a popular fishing venue for bass, crappy, and catfish. Rowlett creek feeds into Lake Ray Hubbard to the west of Rowlett Road, where a popular kayak launch is accessible from Miller Rd, or John Paul Jones Park.
Trinity River
Paddling on the Trinity is popular in the area. Paddling upstream or down stream is relatively easy, but the current is stronger upstream past Hebron Parkway. Familiarity with the river is preferred as there are many low water areas, dikes and dams. A popular launching location is at Sandy Lake Park on the Elm Fork, which can lead all the way up to the Lake Lewisville damn. Denton Creek from Grapevine Lake drains into the river at Elm Fork. There are also several other viable launches. The Dallas Trinity River project is a controversial outdoor water park that has been proposed by the city that would include whitewater kayaking– but the project has been delayed indefinitely due to safety concerns.
Lake Grapevine
Lake Grapevine is a popular lake for recreational boating and sailing. There is not as much fishing that goes on there, but it is a very popular recreational and touring kayak lake.
Other Locations
There are many other locations for kayaking in the North Texas area. Lake Texoma on the border is a huge lake with lots of kayak fishing, touring, and camping options. Joe Pool Lake in southern Dallas is a great lake for almost all kayak venues. There are also several small lakes and creeks throughout the Dallas/Fort Worth area where paddling is allowed.
Learning to Kayak
In most cases, learning to kayak is very straight-forward. Most recreational paddlers require little to no instruction. There are techniques for holding the paddle and moving the body properly. Entering and exiting certain sit-inside kayaks can be learned with a five minute crash course. Safety and self-rescue is a more extensive topic. Courses in kayak safety are available where most paddle groups meet. Handling white water or extreme conditions takes some real skill requiring practice with the guidance of an experienced instructor.
As far as learning how to kayak fish – this is something that many learn through trial and error. However a kayak fishing guide can go a long way to help people understand the benefits and techniques for utilizing a kayak for fishing.
Information & Links
paddle.net – Great canoe and kayaking page with all kinds of information about where to kayak, kayak types, and a good forum.
texasfishingforum.com/ - This active forum has an excellent Texas kayak fishing community.
texaskayakfisherman.com – A great forum about Texas Kayak Fishing.
hobiecat.com/forums/ - Hobie's excellent forum about Hobie kayaking and sailing.
whiterockdallas.org – One of the primary kayaking lakes in the Dallas area.