Posted on
By Native Watercraft

SNEAK PEEK AT THE TITAN PROPEL 10.5!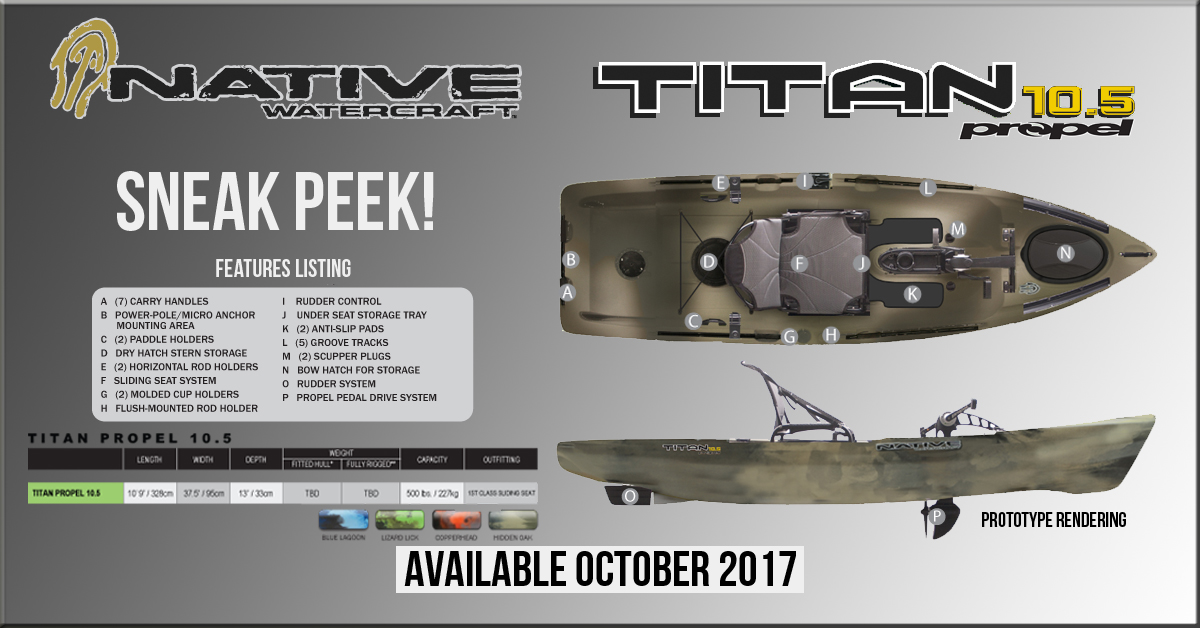 THE TITAN PROPEL WILL BE AVAILABLE IN A 10.5 FOOT PLATFORM THIS OCTOBER! The Titan model has proven itself to be a bass fishing kayak machine. With the 10.5 model, the Titan can more easily be transported in a truck bed while offering many of the same features as the 13.5' model. The Titan 10.5 offers unsurpassed stability making the platform optimal for sight casting with providing plenty of leverage to reel in the catch. This boat features easy-to-reach horizontal rod storage with rod tip protection and elevated First Class Seating designed for comfortable transitions between standing and sitting. In addition, the boat features easy mounting of a Power-Pole Micro Anchor system. The Titan 10.5 can be purchased with a our transom-style motor mount that will accept many off-the-shelf trolling motors for a power-assisted ride making this one truly versatile kayak fishing platform.
Estimated Specs

 *Fitted Hull Weight is the weight of the kayak without the seat and the Propel Pedal Drive installed. This is the weight that is typically lifted when transporting the kayak. // Fully Rigged Weight is the weight with the seat and Propel Pedal Drive installed. Typically, the seat and Propel Pedal Drive are installed when the kayak is about to be launched.
More info to come soon…