FPV10354 – Harness - Parallel Pig Tail Harness - (2) FPV - 50Ah Lithium Ion Batteries
You originally purchase a single 50ah Waterproof Lithium Ion Battery and you want to add more power to run your Trolling Motor we have an incredibly easy solution which eliminates having to splice wires, crimping and soldering.  Our FPV Parallel Pig Tail Harness is a truly plug and play solution.  Our wiring harnesses are complete and all parts except the Screws and Nuts are assembled for you.
With our wiring Harness you receive:
IP67 Parallel Wiring Coupler 60A Male/Female
Waterproof Connector Set 60A Male/Female
1 – Positive 10Awg Mariner Grade 24" Wire
1 – Negative 10Awg Marine Grade 24" Wire
2 – Heat Shrink 12-10Awg Marine Grade Ring Connectors – Installed on each wire
2 – Screws ¼" – 20 X ½ " RHMS-PSS Screws
2 – Nuts 3/8" – 24 Nylock Heavy Nuts
1 – 4" Heat Shrink Tube 1.5" Red Marine Grade Double Walled with Adhesive
1 – 4" Heat Shrink Tube 1.5" Black Marine Grade Double Walled with Adhesive
****Batteries are not included****
Instructions for Installation: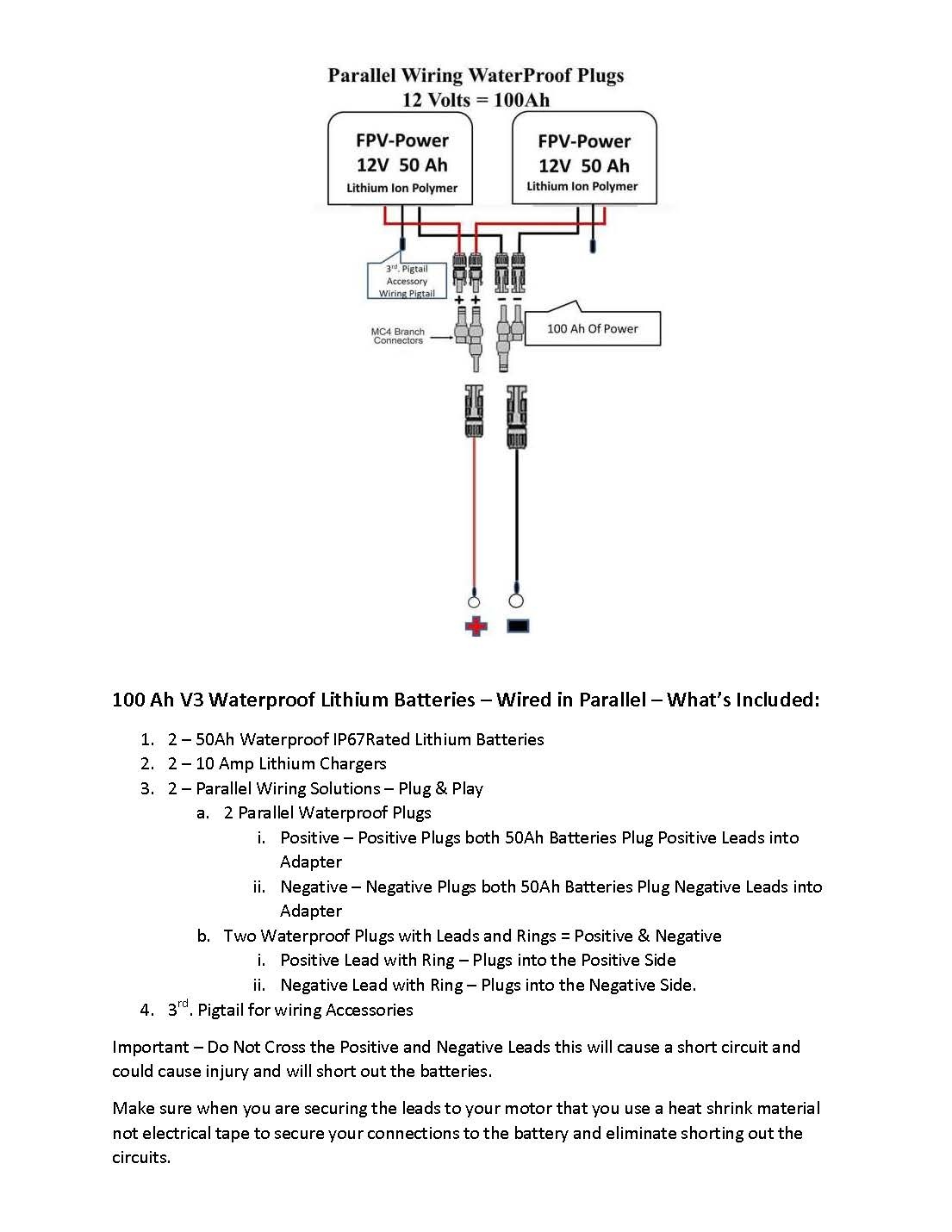 Visit Mariner Sails retail store
Mariner Sails, Inc., 11110 N. Stemmons Fwy, Dallas, TX 75229, 972-241-1498
Come down to our retail store to experience the largest collection of Kayaks - be amazed by the vast options in accessories or come have a chat with our staff members - experienced sailors, kayak anglers, windsurfers - with over 100 years of combined "on-the-water" experience.

9am - 5pm Monday- Friday (Temporary Hours)
10am - 4pm Saturday (Loft Closed on Saturday)

Learn more about our store
Serving water sports enthusiasts for over forty seven years specializing in Kayaking, Windsurfing, SUP, Sailing and Sail Making.