What is a Catamaran?
The word catamaran is derived from the Tamil word kattumaram meaning a multi-hulled boat. This provided an opportunity to build a light weight structure with less wetted surface enabling the device to achieve speeds far in excess of the more traditional mono hull sail powered vessels. This makes these boats much faster than a typical sailboat of equivalent size, with speeds often in excess of twenty knots.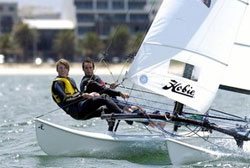 The advent of the Hobie catamaran provided an ideal platform for young sailors to learn to sail fast and lightweight boats in the surf... hence the name "beach cat". The durability, ease of sailing at speed, and the portability of the design made the Hobie Cat one of the most popular boats of the 20th century, with over a hundred thousand of the Hobie 16 boats built to date.
Hobie catamarans typically come in sizes from fourteen feet to twenty feet, and require a crew of one to two people depending on the boat. The maintenance is minimal; as the boats are transported by trailer, they do not need a "slip" or "dry storage" facility.
Sailing a Hobie Catamaran to the extreme of "flying a hull" with skipper and crew both out on the trapeze is an experience not easily forgotten!
Learning to Sail Your Hobie Cat
Most people can learn to sail a Hobie Cat in light wind within a day with proper instruction. If you do not have a sailing instructor there are many ways to learn how to rig and sail the boat. The local Hobie Cat community (Hobie Fleet 23) offers Hobie University every spring; a 2 week intensive on-the-water and off-the-water course taught by veteran catamaran sailors – and it's free!
Also, there are many books and video resources available, such as the DVD - Hobie Cat Sailing: A Step-By-Step Guide.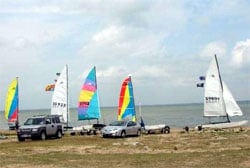 Local Catamaran Venues
Sailing a catamaran in Texas is fun, exhilarating, and inexpensive. There are many locations available for year round enjoyment of this exciting sport right here in North Texas. The most popular location is Hobie Point on Lake Lewisville. Hobie Point also happens to be where Hobie University is held for the on-the-water portion of the course.
Lake Grapevine, Lake Ray Hubbard, and even White Rock Lake are convenient and popular destinations. And if North Texas is not enough to satisfy the avid sailor, the Gulf Coast is less than a day's drive away.
Hobie Cat Events
There are numerous Hobie Fleets that are assembled to provide a base from where to organize events such as The Mid America competition as well as many social events such as Snooze & Cruze.
These Fleets, comprised of like minded sailors, are friendly, yet competitive. Most Hobie fleets offer help to new sailors, provide an opportunity to travel to other venues, and participate in the many social events year round!
Helpful Links
Hobie Fleet 23 (www.hobiefleet23.com) - Local North Texas Hobie cat sailing fleet.
Hobie Cat (www.hobiecat.com) - Hobie Cat company website with lots of information.